Multimedia: Lumen Dei Participant Michael Ettema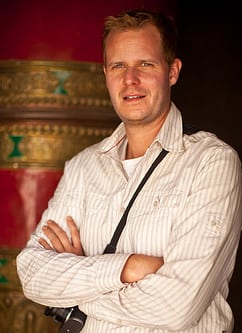 I spoke too soon. Apparently, I still have a few more SoundSlides slide show to present. Today entry is by Michael Ettema. Michael came to Lumen Dei packing light. He sported the only Leica on the trip. His whole kit, three lens and body all fit into a small bum bag. I tried using his fine piece of photographic precision German crafting only to find, I suck at focusing on the fly. Apparently Michael has no problem as you can tell from his images below. For a lawyer (sorry, I had to through that in) he did some amazing work.
My workshops generally are not physically easy. For that matter, they can be emotionally taxing as well. We go to dirty places, eat unfamiliar and at times unpleasant things. We stay at a whole range of accommodations from very nice, to dodgy ,to tight tents. These are hazards of the trade. The good images are not easily found and often they are uncovered in the most uncomfortable and remote places. This trip was no exception.  At times I thought Michael was out of his comfort zone, trekking and camping like we did. But the guy survived all this and showed us his photographic "stuff". Michael was kind enough to do a review of the Lumen Dei workshop. Here is a short excerpt from that review:
And we learned plenty from our mentors… Aside from regular photo critiques in the evening there was very little formal teaching – and I was not missing any of that. Shooting side by side with these guys, getting to know the mindset they apply on different situations, how they approach people (they do it differently and both "styles" are respectful, engaging and successful),  just couldn't be delivered with formal teaching. This was so much more valuable for someone like me, who is the "learning by doing" kind of student. Both were approachable 24/7 and explained, showed, helped even while knocked down from severe cold, E.Coli and mountain sickness.
Visit Michael Ettema's website HERE. Read his full review of the trip HERE.
You can view all the shows (so far) from the Lumen Dei 2010 Workshop HERE
Interested in other Workshops lead by Yours Truly? Visit my workshop page HERE.
FaceBook Comments
comments