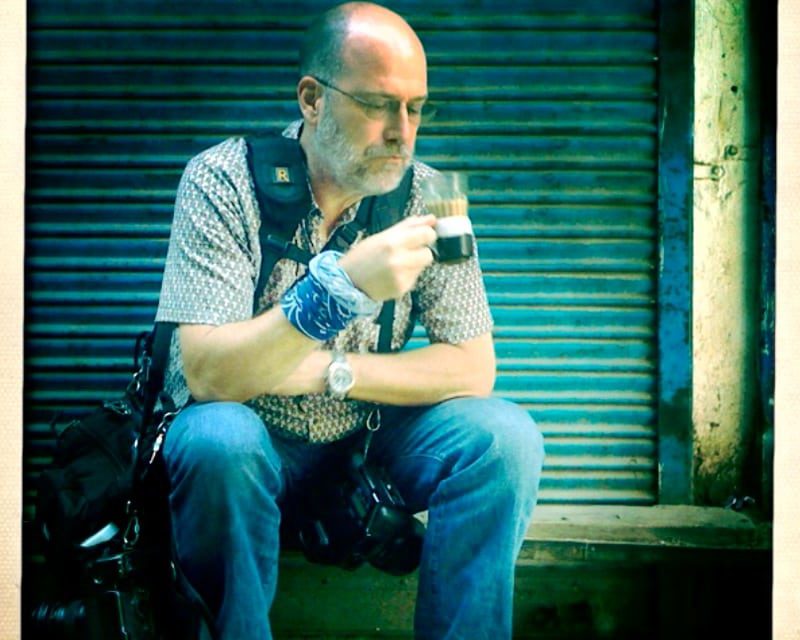 I never thought I would write a blog post on the use of two cameras. To me it is a no brainer, two are better than one. For many of you , it is the same. Some of you will not have thought about it, as I found out this past workshop. On the Tibet workshop two people said they were actually surprised to see me shooting two cameras at a time, meaning carrying two cameras through out the day. When they looked at my packing list, they assumed I listed the "extra" camera body as a backup. So to see me carrying and shooting both cameras was new to them. I guess I made the assumption that everybody knew why I take two bodies on a trip. Well, you know what they say about assuming?
I know for many of you shooting two camera bodies is a dream. You are doing well just to have the one DSLR camera, let alone a second body. I know this because I used to be in the same place. The first time I had two camera bodies was after I inherited my father's old EOS SLR (film). I used to take it on trips as a standby in case my first camera failed. This certainly is one of the reasons to have two bodies. It was only a year or two back when David duChemin and I were leading a Lumen Dei in Ladakh when one of his 5Ds quit working. It just bricked up and became a paper weight. Fortunately for him he had a second body he was shooting with. This happens more often than one would imagine. And given Murphy's timing, it always happens at the worst possible opportunity, like on a workshop or an assignment. However, by having a second body on-hand I am assured of being able to keep shooting without a hic-up.
There are a myriad of other reasons to shoot two bodies, not the least of which is dust. In the days when we shot film, there was less of a problem with dust entering the camera when we switched out lenses. It happened, but generally it was not the issue that it is today. Today, when we take a lens off the body it exposes the sensor to the elements. Sensors get a slight electrostatic build up on them so that if dust comes anywhere near it, it seems to be sucked in and glued to it, making it almost impossible to blow off. When I find myself shooting in deserts like Ladakh or the Tibetan plateau dust is always an issue. By shooting two bodies with a varied lens option makes changing lenses less needed and minimizes the chance of dust on the sensors. This is not to say that you won't change a lens, and when you do, that it won't be in the dusty desert. It is just that you will do it less often. Making less opportunities for dust to come into contact with your sensors.
Dust can make the best photographer look sloppy and unprofessional. Rollover the dusty image below. Fortunately Lightroom's clone tool can be a huge help.
Save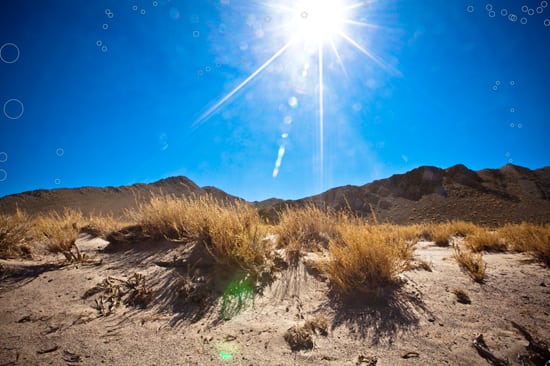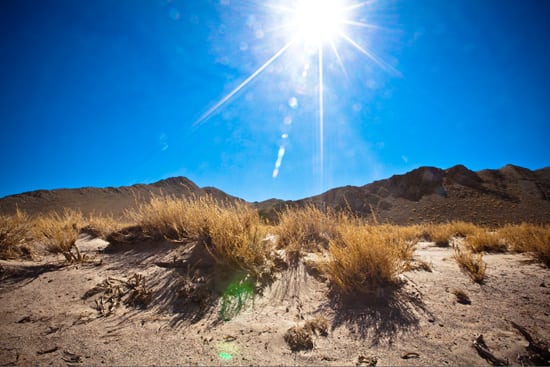 Two cameras don't only help with dust. There are countless stories by countless photographers of shots that they have lost while switching lenses. When I carry two bodies throughout the day my general setup is to have on my right side my camera with my 16-35 mm 2.8 attached and on the left side a lens that will be a little longer. Usually, it is either my 85 mm 1.2 or my 70–200 mm 2.8. This setup allows me to have quite a variety of focal length to choose from. If you are an avid reader of this blog you might think the 85 mm is my go-to lens. In fact, it is not, the 16–35 2.8 is that lens. By having a wide and a mid-range telephoto on each camera I'm ready for just about anything that I run across.
Ruggedly handsome but reassuringly self-deprecating international travel photographer Gavin Gough covered in coloured powder during Holi Festival Celebrations, India.
Copyright © Lesley Fisher
So how the heck do you shoot with two cameras…realistically? Don't they crash into each other? Some folks use a traditional strap and put one camera around their neck and the other on their left or right shoulder. This has worked for years and many people are quite comfortable with it. My good friend, Gavin Gough for one. Gavin has shot like this for years. Above you see him shooting with a camera on each shoulder. You need strong broad manly shoulders like Gavin's to pull this off or they will keep falling off. I guess I have too bad of a posture for this setup. So I have gone the easy route. I use the Blackrapid R-Strap Double.
This setup ensures the cameras stay put, right where they belong, on my shoulders. They are a little shorter than arm's length to keep them from touching the ground when I squat or kneel down to shoot. The only real downsides I have found to this system are two things. One is the strap connector screws into the tripod socket on the camera. Thus making use of the tripod socket useless for what it was intended for. This is a pain when you want to use both the strap and later shoot on a tripod. So I have gone back, yet again, to use a small piece of sheathed climbing rope to connect the straps to the locking clip on the strap (unlike in the photo above, where I am using the connector in the socket). The other is they are a pain to put on and take off at times. Like going to lunch or getting in and out of a car or taxi. But, outside of those small things, I find the R-Strap Double to be a huge asset when shooting two cameras. I can't recommend them enough.
So when it comes to shooting one camera body or two, I say, two is always better than one!
FaceBook Comments
comments