10 Handy Travel Accessories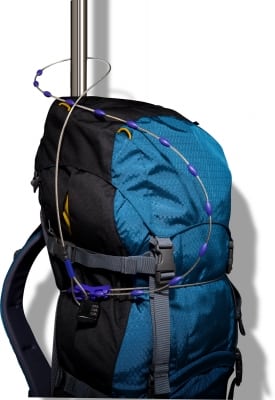 Travel is a big part of my work. Of course, when we photographers travel we don't just carry cameras and lenses. We have to carry many other accessories that make traveling easier and our work more productive. So here is a list of 10 items ( in no particular order) that have made my time on the road easier and more productive.  I would love to hear from you what you find indispensable when you travel. Feel free to leave comments below and even a link or two.
1. PacSafe: Wrapsafe cable lock. The Wrapsafe this is a monstrously long cable with a creative design. Unlike other normal cable locks PacSafe's Wrapsafe cable is adjustable due to the polycarbonate anchors along the cable length. It's not exactly light, but it's effective at securing your luggage in a train station, airport or even in a hotel room while you're gone all day shooting photographs. It leaves you with peace of mind while you are away from your belongings. Well worth the weight!
2. Belkin 4-Way Surge Protector and Extension. One of the most frustrating things while traveling is having enough plug adapters for all your different electrical items. Sometimes, you may have enough adapters, but there just isn't enough sockets in the room. Enter the Belkin 4-Way Surge Protector and Extension. There are several of these available, but I use the one that has the multi-plug slots. In this way I can use almost any type of plug from the round prongs of Indian plugs to the English and Malaysian large square plugs. (Unfortunately, I have never found this particular power extension available in the United States. I've only found it available in South and Southeast Asia.)
3. Zero Tolerance ZT-0350 tactical knife. Some might feel this is overkill and that a complicated Swiss Army knife might work better or even a multi-tool. Maybe that is true for you. I switched to this knife after years using a Swiss Army knife. But frankly, the Swiss Army knife was too heavy to carry around in my pocket and I never used anything but the scissors and the knife blade, so what was the point? I like the simplicity of this knife. Plus, this particular knife gives me a sense of security in that it is an "every day carry" and I can clip it onto my pocket and wear it. It has an assisted opening that makes one-handed opening easy using the large, ambidextrous thumb stud or blade flipper. It is made of thick S30V stainless steel. S30V steel is really tough, so much so that you can use this knife to pry apart two wood 2-by-4 planks nailed together and not damage the blade.
4. LEDLenser-ZL7438 Flashlight. Any small LED flashlight is handy. But this one is as bright as a laser beam! My LEDLenser has proven to be indestructible. I have dropped this from quite high on many occasions and it still performs well. This little light takes 3 AAA batteries and runs forever on them. It is rated to give 100 hours of battery life. I'm not sure that's true. Maybe it is 100 hours till the battery dies completely. Needless to say, you will want to replace the batteries earlier than that to keep the light bright. It is not cheap, but it's been the last flashlight that I've had to buy. So, in the long run it might be worth the money spent. This is an Australian company, so I'm not sure how easy it is to find in the United States.
5. Giro Blaze Cold-Weather Cycling Gloves. You might ask, why cycling gloves? The fact is, I didn't go out looking for cycling gloves in particular. I was browsing around a few years back at an REI (a sports store in the U.S.) and found these. They are thin, grip well and yet still warm and allow me to feel the buttons on my camera while wearing them. I don't find much use for fingerless gloves, so these were perfect.  These guys went with me to the Everest base camp this year and they will be going back with me again next year.
6. Gatorade powder. This is an incredibly handy item to have with you when you travel. Not only does it replace lost electrolytes after you have been sweating in the New Delhi sun, it also can mask the flavor of some pretty nasty water. Oftentimes water that's been filtered or purified may have a bad taste and this makes drinking it possible. I usually keep around 3 or 4 small packs with me throughout the day.
7. Shure SE210 Sound Isolating Earphone.  Audio is very important to my work and I want to be able to hear what I'm capturing with my recorder. But I also don't want to have to carry along several types of headphones. I used to travel with a pair of noise canceling headphones but I found I only use them when I was in the plane. Then I found these Shure Sound Isolating Earphone. They isolate rather than cancel out noise. Basically, they are foam ear plugs with a hole in the center for the sound to pass-through. For all its simplicity, it's very effective and some of the best sounding headphones I've ever owned. Plus, I don't get a headache after wearing them for hours on an airplane like I used to do with my noise canceling headphones.
8. Eneloop Ni-MH Rechargeable Batteries with Charger. A conventional NiMH Battery can be charged only up to 500 times and looses about 10-15% of its charge on the first day itself. In contrast the Sanyo Eneloop retain up to 85% of its charge even after one year. Not only that but they can be recharged up to 1000 times. I have found these to be the best rechargeable batteries out there…by far. They've saved me a lot of money over time. Great for use in a flash, radio triggers and recorders.
9. iPhone/iPad Pen and Stylus. Why a iPhone stylus? Good question, since the iPhone doesn't need a stylus for you to write on it. But, try to get someone who's never written on iPhone to use their fingers to sign a model release. Trust me, it's difficult, I've tried it. That's when I went and purchased a stylus pen and everything became easier.  If you're using Easy Release or some other type of iPhone app for obtaining a model release I highly recommend getting a stylus. The one I have (pictured above) doubles as a writing pen as well.
10. Pipes. At the risk of getting inflammatory e-mails by people telling me how dangerous pipe smoking is I put my pipes on this list. It's a simple pleasure that relaxes me.  I enjoy the camaraderie it facilitates with other pipe smoking photographer friends. You know who you are – I will not list your names here. 😉
So, that's it. It's not an exhaustive list and it's not a "top ten of list" it is just a handy list. Maybe there is a thing or two on this list that you might find helpful or useful. I hope so. At the very least you can use this as a starter for your Christmas with list. What do you find you cannot travel without?
FaceBook Comments
comments