Luck Happens: Kek Lok Si Temple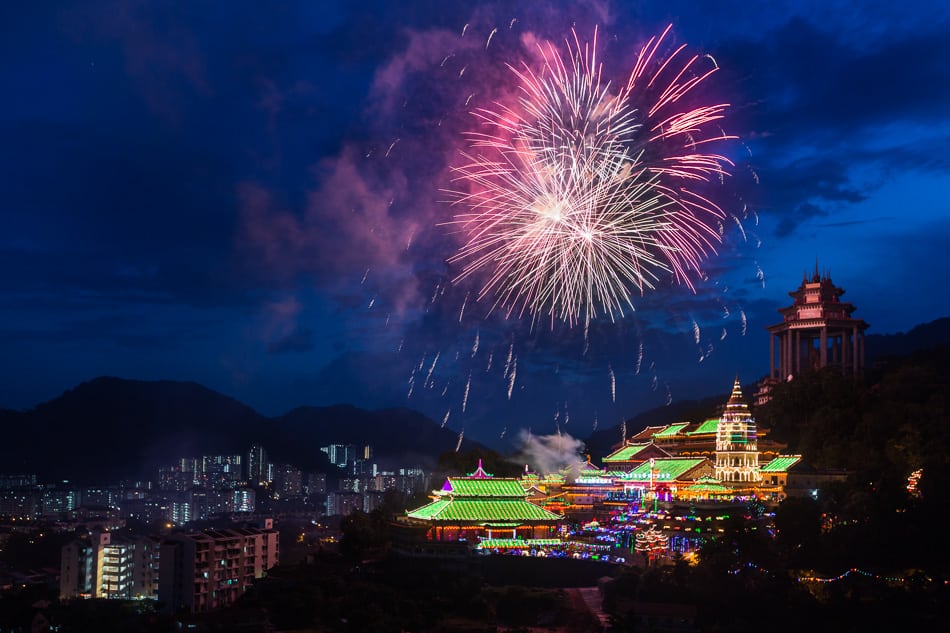 click on the image to view it larger
Last night, Scott and Tim, two of my ex-pat friends decided to join me to go shoot the lights of the 122 year old Kek Lok Si temple against the evening light.  Frankly, it's on the must shoot list for any local photographer. The temple is lit up by thousands if not millions of lights every Chinese New Year. The temple is a bit like the eccentric neighbor in the U.S. who every year adds more lights to his Christmas decorations. The Kek Lok Si temple committee seems to do the same for their Chinese New Year's decorations. The temple lights are lit every evening from around 7:30 to 9:30.
It's difficult to find exactly the right position to photograph this huge structure. We asked around and found out that there's actually a path that leads up to the side of the hill located behind the local 7-Eleven. So, with our iPhone maps in hand and every 7-Eleven in the area marked on them, we went off looking for the location. Frankly, it was not hard to find the correct 7-Eleven given its location to the temple. Plus the fact that there were about 50 photographers there, all with umbrellas, on the side of the hill. We schlepped our gear up and into a small garden where all the other photographers were set up. We found a few opening spots between them and set up our own tripods. I was dumbfounded by the amount of photographers that were here just to photograph the temple in the early evening light. I know that it's a popular shot and all, but 50 photographers on a rainy evening? That seemed crazy to me.
I grabbed my 72-200mm thinking that might be the lens to shoot, but once I looked through the viewfinder I realized that even at 70mm we were too close to this large temple complex. I then brought out the only other lens I had with me–a 16-35mm, but realized that if I used it every photographer in the field would be within my frame. I therefore angled my field of view to crop out the other photographers which gave me a lot more sky. I was pretty frustrated that I had to include so much sky and less of the surrounding city, but there was no way I could shoot what I wanted with so many umbrellas around. I got my exposure where I wanted it and started snapping off a few frames. Then–all of a sudden there were explosions which filled the sky with color. This was fireworks folks, and there were a lot of them. I started shooting like crazy every blast I could. My angle of view was just about perfect. I couldn't have planned it better. I had the right angle and the right lens–and without any prior information about a fireworks display that night. I turned to the photographer next to me who was with one of the local newspapers and asked him, "Is this an every night event?"  He looked at me quizzically and said, "No, this is only once a year!" Sometimes, my friends, luck is on your side.
Gong Xi Fa Chai!
FaceBook Comments
comments