Change happens. Get over it.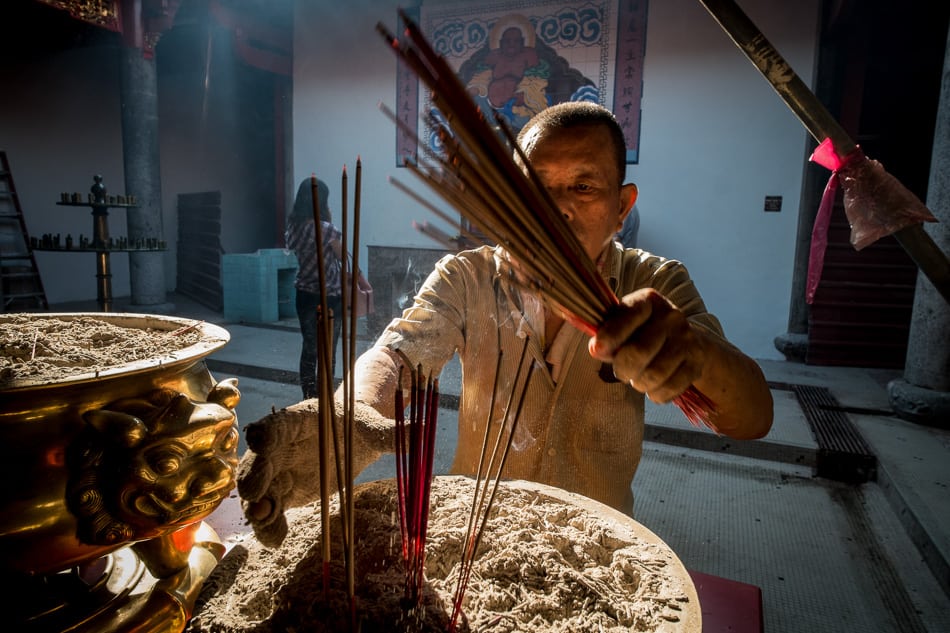 Lately I have been busy working on an idea. It goes back to an old post about teaching NGOs how to fish. But that is for another post in the future. The result of laboring over this idea has led me to spend endless hours talking to people and just as many hours in front of the computer and away from my camera. It got to a point where I needed to get our and breathe. I needed to see this city I live in. As if on cue, a Facebook friend wrote and told me he would be visiting Penang and would love to meet face-to-face. Just what I needed – an excuse to get out. So this morning I meet up with Mohd Shukur Jahar from Sabah.
Shukur (his name mean "thankful") wanted to see some of Penang and chat. Two things I love to do. So I grabbed my X-Pro1 and we meet up in downtown Georgetown. Things were pretty slow at 8:30 am. So I suggested we try the Goddess of Mercy Temple on Jalan Masjid Kapitan Keling.
The Goddess of Mercy Temple is one of these places that I have mix feelings about. It is always busy with locals worshiping and giving food outs to the poor. But visually it has changed a lot recently as they are renovating it. They've gutted it! They've removed all the old wood and broken tiles and completely restored it so it looks brand new.  I am sure it is a good thing for the community. I am sure every community want their places of worship to look good and to not be falling apart. Every community wants to put it's best foot forward. Yet, for me the personality of this place is gone. All the old patina has been scrubbed away. Hundreds of years of smoke from the devotee's incense had vanished. The effects of millions of prayers washed away. It is as if there is no history. They have removed the old dark and dusty Chinese lanterns and replaced them with new bright red ones, fresh from the factory. This is now a new temple that they call "historic". It is not just the Goddess of Mercy Temple, many places around Georgetown are being torn down or renovated for historical preservation. I get it. It needs to be done. It doesn't mean I have to like it… or does it? Maybe it does. These places were never for me. They belonged to the people who have lived here and worship here for centuries.
What it tells me is I can't keep sitting at my computer and expect things to stay the same. In the short the five years I have lived here this town has changed, a lot. I am thankful I took time to photographed this old temple the way it was a few years back. My advice to you- don't sit around and watch the world change and then complain. Get out and photograph. Stop time and preserve it. In the words of my good friend Fernando Gros, "Don't Complain – Make Art".
FaceBook Comments
comments