Fujinon 50-140mm f2.8 LM OIS WR: Review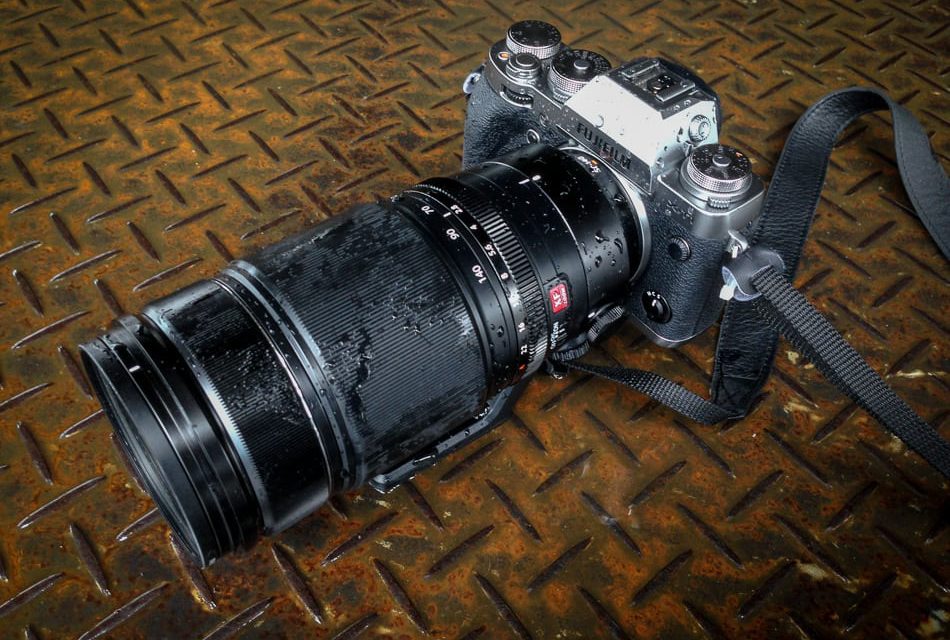 For more than 3 years Fujifilm has been producing stunningly sharp lenses for their X-series camera. The 35 mm f/1.4 was one of their first lens and it was so sharp I was sure it was a software trick inside the camera.  Then came the other lens with the 56 mm f/1.2 being the go-to for portrait photographers. But there was still an obvious gap in their lens line up. Sharp or not, there was not a 70-200 mm f/2.8 equivalent lens, that is until now. That hole is now filled with the Fujinon 50-140mm f2.8 and it is amazing.
In this review I will look at this lens and give you my thoughts from the field. By the way, when you see an image marked SOOCEFZR that means, "Straight Out Of Camera Except For Zits Removed"– hey,  my model was a teenage girl. She wouldn't have worked for any amount of money had I not removed the zits! So there it is, full disclosure. No color correction, levels nothing other than removing a few zits on her forehead and chin. Everything else is as it is. If the image is not marked with SOOCEFZR it has been processed in Lightroom like I do with any other image.  All images are loaded here at 950 pixels on the long side. Click an image to view it in a lightbox for better resolution.
Fujifilm Malaysia was kind enough to loan me this lens for my trip to the Philippines. I traveled to the Philippines to attend my niece's wedding on Dec 3rd. Alou and I were then scheduled to take a few days off with her family in the Philippines and go to Boracay on the beach. But once we saw the possible path of the then super typhoon Hagupit (called Ruby here) we chose caution and decided to stay back in Manila. We visited Bataan instead. Definitely not Boracay, but fun and less stressful than wondering if the typhoon would sweep us away.
So back to the lens.  Let's start by looking at the build quality. This lens is built solid and is everything we have come to expect from a Fujinon lens. I read somewhere that this lens was constructed out of plastic. That's not the case, at least, that's not what the Fujifilm website says, "Both the focus and aperture rings are metal, plus metal is also used on the exterior of the lens body for a high-quality finish."  As such it feels solid like all the other XF lenses. This lens is also the second one produced by Fujinon that is weather sealed to complement the X-T1 weather resistant body.
I have also heard people say that this lens is large and heavy. Frankly I expected it to be a lot heavier for a continuous f/2.8 lens made of (mostly) metal. It is no featherweight for sure, coming in at 995g (2.19 lb). But compared to  the Canon or Nikon equivalent it is about half the weight and not nearly as big. Remember, this is a 35mm format equivalent of a 70 – 200 f/2.8. Actually, to be fair it is really more like a 75-210mm (precisely 76-213mm). This lens is slated to be, as one photographer I know put it, "One third of the holy trinity of lenses" : 50-140 mm f/2.8 (70-200mm), 10-24mm (16-35mm) and the 16-55 f/2.8 (24-70mm).
Unlike its older brother the 55-200mm, this lens sports a fully internal zoom mechanism. Frankly the 55-200mm fully zoomed in is almost the same length. But why even compare? These two lenses are in different classes. The 55-200mm as good as it is is a toy compared to the 50-140mm f2.8 lens.  The zoom ring on the 50-140mm is a massive 2" wide band of corrugated rubber. There is no confusing the zoom ring with the focus ring as the focus ring is only a quarter of the zoom ring's width and made of metal. Both the zoom and the focus rings move nicely. Neither feel loose or sloppy–no play in either.
The aperture ring is, like all the XF lenses, on the barrel where God intended an aperture ring to be. But unlike so many of the XF zoom lenses it is clearly marked from f/2.8 through 22. I get why Fuji didn't make the aperture ring on the lenses where the f-stops vary with the zoom. But why they didn't do this on the 10-24mm that has a constant f/4 I'll never know. The 50-140's aperture ring is also nice and tight and gives the user the tactile experience of physical clicks between every one third stop.
The tripod comes with both a massive lens hood and a tripod collar. The lens hood is made with a small door on the side that allows you to adjust a screw on the circular polarizer filter with your finger. The tripod collar is different than I have seen before. The jury is still out whether I like it or not. Unlike other tripod collars I have seen or used this collar is permanently attached to the lens with the foot of the collar being removable. There are two screws that attach the foot to the collar. You have to completely remove the screws and either store them loose or screw them back into the lens. Seems like a recipe for losing screws to me! (Kind of like the metal hot shoe plate that comes with this camera that I will lose.) Going back to the collar–I do like the fact that it allows for easy storage of a smaller foot rather than a more bulky ring collar and foot when packing a roller-bag for a trip; so that is a plus. The foot is almost the exact size of a couple of Swiss-Arca plates I have lying around my office. This gives rise to my thought, why doesn't Fuji just craft the bottom of the collar's foot into an industry standard mounting plate? Unless they have plans to sell one later. OK China, are you reading this? Get busy and make me a Swiss-Arca type tripod collar foot attachment for this lens.
The OIS in the lens' name stands for Optical Image Stabilization.  As I mentioned earlier, Fuji has a reputation for not only its lenses, but also for making military spec stabilized binoculars. They claim a 5 stop gain in image stabilization. That is huge. I can't say for certain it is a 5 stop gain but what I can show you are two photos: one taken at 56 mm at 1/10 sec hand-held and the other at 129 mm at ⅛ sec hand-held. Both are pretty sharp for what they are.
As for the image quality, this lens is right up there with the big boys Nikon and Canon. In fact this lens might just be sharper. But to be very honest with you, testing a lens' sharpness is very technical and something I will leave to the more tech-centered blogs. As photographer and tech guy Bob Atkins says, "Probably the most frequent complaint or cause for concern about a lens is that it's not sharp, but what does that mean? Well, unless you're shooting a static subject with the camera and lens on a tripod, it probably doesn't mean much. A lot of photographers don't realize that hand holding a camera (even if it or the lens has image stabilization), isn't the way to get the maximum possible sharpness. If the shutter speed is high enough and your hands are steady enough, you may get a critically sharp image, but don't bet on it happening every time."
So let's look at this from a practical standpoint. I took a series of images of Jessie with this lens outside in my front yard since I typically don't shoot in a studio. This is what I found. There is no chromatic aberration that I can see. The lens is sharp as a tack all the way through the zoom. I found this lens to be sharp at f/2.8 but not as razor sharp at f/5.6 and 11. The sharpness fell off at f/22. But I think that has everything to do with the fact that reciprocity set in and so I was forced to shoot at 1/7 of a sec. Yes, the camera was on a tripod, but that is slow enough that any movement from my model would cause blur. With that said, the overall sharpness of this lens is stellar. In fact it might be sharper than the amazing XF 35 mm. As photographer Derek Clark says in his review, of this lens, "it thinks it's a prime." And I have to agree.
Take a look at the images I have prepared for you. You can clearly see how sharp it is. You can also see the ever so softness at 2.8 and then it breaks down at f/22.1UPDATE: I completely forgot to add this note on the auto focus. This lens focuses great in strong light or good contrast. If there is one downside of the lens, it has to be in low contrast or low light situations where it had a tendency to hunt. There were more than a few times that it rocked back and forth looking for the focus when I was shooting at the wedding reception. It did make it frustrating at times.[/footnote]
It's not a cheap lens. In fact, I think it is the most costly of all of Fujifilm's XF lenses. It retails around $1,599.00. I don't like the price, but this is a lens that you need in your bag if you are a serious photographer. Sure, you can use the XF 55-200 and if you are comfortable with the slow 3.5 -4.8 speed and like its light weight, then by all means use it. But for those of us who really feel a need for speed and razor sharp images, then this is our lens. Either start saving or sell something because you need it!
FaceBook Comments
comments