Indian Summers to Premier Feb 15th in UK.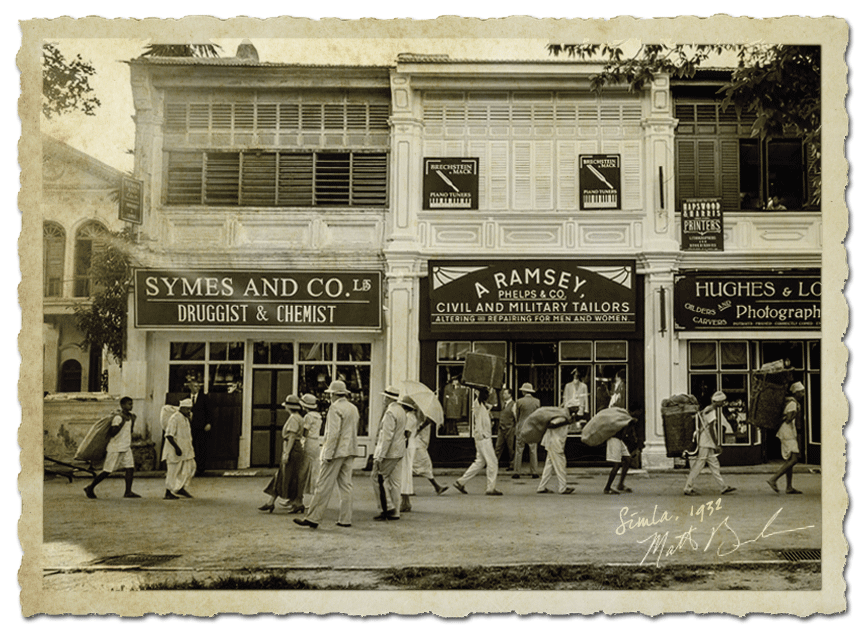 My adopted home, Georgetown, Penang became the unlikely setting for the new UK Channel 4 series, Indian Summers. The series is set in Colonial India in 1932 in the summer capital of Simla. Yes, during these days the British Raj had two capitals: New Delhi during the winter months and Simla, a hill station set in the foothills of the India Himalaya in the hot Indian Summers. Thus the name.
To quote from the press release from Channel 4:
It's the summer of 1932. India dreams of independence, but the British are clinging to power. In the foothills of the Himalayas stands Simla; a little England where the British power-brokers of this nation are posted to govern during the warmer months.Set against the sweeping grandeur of the Himalayas and tea plantations of Northern India, Indian Summers tells the rich and explosive story of the decline of the British Empire and the birth of modern India. Revealing a tangled web of passions, rivalries and clashes that define the lives of those brought together in the shadow of the mountains, this is a summer which will change everything. ~Channel 4
I answered the casting call for someone who had equestrian experience. They needed to cast a riding instructor for a scene with actors Henry Lloyd-Hughes and Nikesh Patel. I rode a horse every day during my job as a municipal park ranger in Waco, Texas back in the '80s so I was well qualified. While interviewing me for the part, the Producer Dan McCulloch asked what I was doing in Penang. I told him I was a photographer based out of here. The next thing I know I was being asked to send in a portfolio of images to Channel 4. Soon after that I found myself on the set of Indian Summers as the series' still photographer. All of this was very new to me. I thought a set photographer took photos of the behind the scenes action. Not really. The still photographer shoot images of the actors while the filming is going on. The goal is to get images that look and feel like screen grabs or alternate views of important scenes. Also to photograph the actors for use in promotional pieces, from press releases to movie posters. It was all quite exciting and I was feeling very out of my depth. I was not needed every day on the set. They only needed shots of key scenes and as such I would only be requested for four or five days in each block of shooting.
In the interview Dan asked me what camera I shot. I told him Fujifilm and got a blank look. I told him it was a small APS-C sensor… another blank look. He asked it it could do the job. I assured him it could. Though frankly, I was nervous. I soon found out that most set photographers shoot their cameras in a box, sometimes even waterproof housings all in an effort to dampen the shutter click. When shooting while filming the photographer is often right by the microphone and a loud shutter can come through on the audio track. Fortunately the smaller cameras like the Fujiflm X-system have a very quiet shutter. In fact I never had a complaint from the sound guys, and I would often ask them if they heard my shutter. If I shoot this next season I will be in an even better place as the new firmware for the X-T1 has a silent shutter. Tailor-made for assignments like this.
The actors and crew were very understanding and accommodating. But it took a while for me to understand that I could ask the Director of Photography (DP) to pause the production to allow me in to photograph a scene either during rehearsal or after they wrapped it. Like so many learning experiences you have to find people that can give you advice. Being the only still photographer on the set I relied on several experienced crew members and actors. Speaking of actors, everyone of these actors on the set of Indian Summers was a pleasure to photograph.  Even the seasoned actors like Patrick Malahide would often take time out of resting between takes and allow me to photograph him over and over again. Personally I would have told myself to shove off!
Probably my biggest adjustment was understanding that, as odd as this may sound, this is not street photography or photojournalism. I had to remember to always consult Makeup befor photographing any actor. Remember, in effect each photo needed the character to look as if they stepped right out of the film. So if I photograph Henry Lloyd-Hughes is in a scene without a coat but he always wears a coat in that scene then it makes the photo potentially unusable. The problem for me was that I come from a photography background of: I see it, I take it. However on set, that is a no, no. I can't tell you how many times I got scolded by Makeup – and rightly so.
I was privileged to photograph all the main actors but one: Julie Walters. While she was on set I was on a preplanned family vacation. I had already planned this trip with the family to Italy prior to even going in for the riding instructor part. But I was able to photograph most everyone else.
The series is set to air on February 15th in the UK on Channel 4. I have no clue when it will be aired here in Malaysia. But trust me, this is a series you will not want to miss.
As the season progresses I will be free to post more images. But for today here is a look at the main cast, at least the ones I photographed.
By the way, I got that part as the riding instructor. It is in the third episode. Be sure and check out my British accent.
-Click the photos below to view the 

data in a lightbox.
FaceBook Comments
comments