Thaipusam '11, Day 2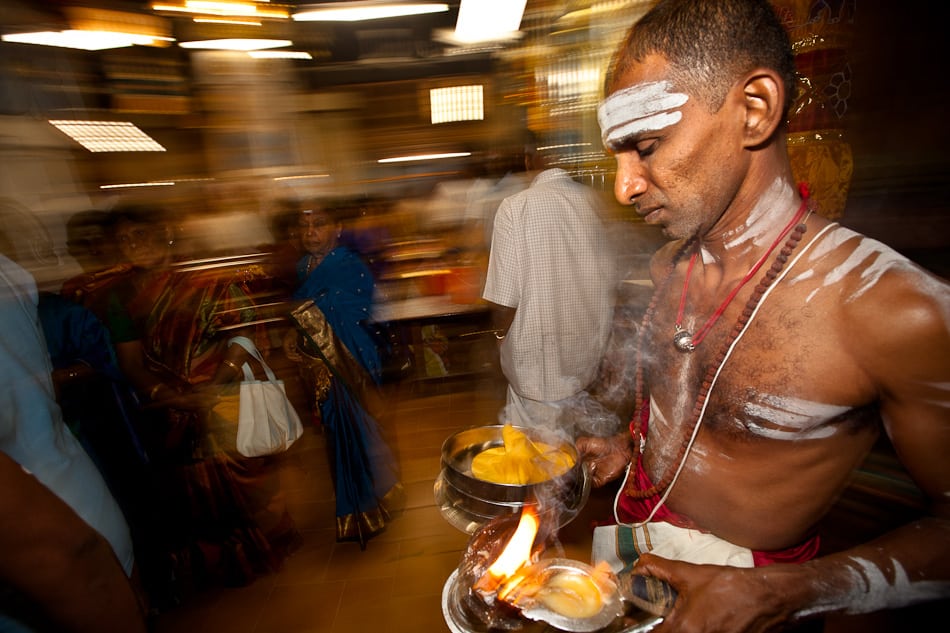 Thanks for all the positive feedback yesterday. Thaipusam is a festival, a party, as well as a pilgrimage by foot. To me, today seemed to be about movement.
As photographers human beings we get caught in patterns, ruts and favorites all the time. I am no different. But, this doesn't have to be a bad thing. A repeated use of something can be a crutch or it can become a tool or even a style.  The fact is, when I shoot nighttime or twilight street scenes I fall back to a useful tool; 2nd curtain shutter release also called rear curtain sync. I first did this when I shot Thaipusam the last time, then I used it when I shot the Kumbh Mela and I did it this time as well. I love this technique because it is flexible and can be very effective at communicating movement, even better than panning. So in these images from this morning, you will see I used it a lot. I make no apologies.  I also used my 85mm f/1.2 for some classic portraiture as well, what a surprise! I hope that these images communicate the feel of the event and bring you a little closer to my world.
Click on the thumbnail to view full size.
FaceBook Comments
comments