Preparing for Thaipusam: Think Different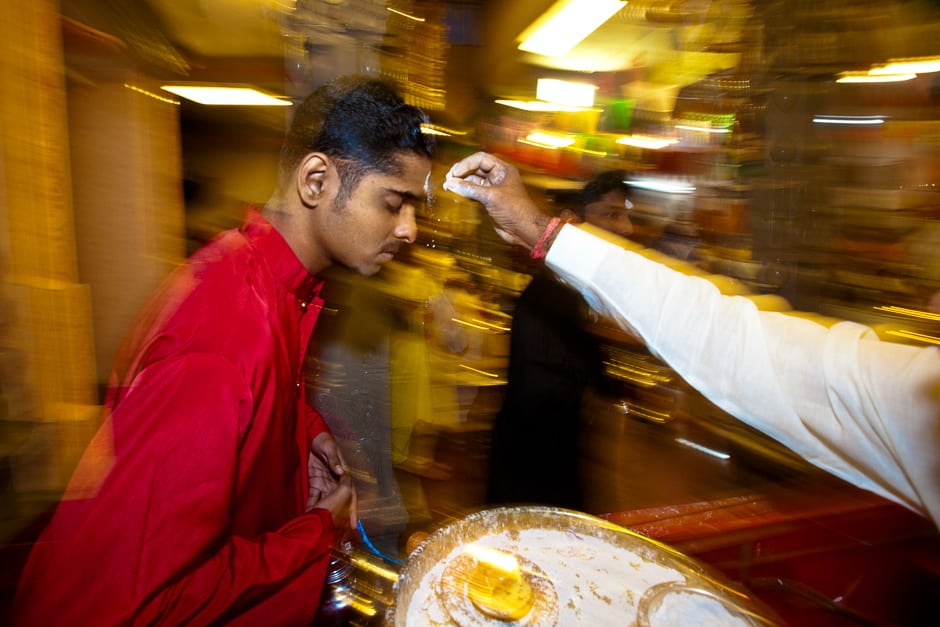 It's that time of year again here in southeast Asia. This weekend is Thaipusam, the Hindu festival celebrated primarily by the Tamil community in South East Asia on the full moon in the Tamil month of Thai (Jan/Feb). Pusam refers to a star that is at its highest point during the festival. The festival commemorates both the birthday of the Hindu god Murugan son of Shiva and Parvati, and the occasion when Parvati gave Murugan a vel (It's call a lance!) so he could vanquish the evil demon Soorapadman. The festival runs for three days and starts with a chariot procession. Thousands line the streets of Georgetown, Kuala Lumpur, Singapore  and other cities to see a silver plated chariot containing a statue of Murugan making its way to its temporary home, in Penang this home is  the newly built hilltop Hindu temple, Arulmigu Balathandayuthapani Kovil.
Often devotees carry pots of milk on their heads as a show of devotion and love to the god–this is called a Pal Kavadi. Others carry elaborate frameworks on their shoulders often decorated with peacock feathers and attached to the devotee by 108 vels pierced into the skin on the chest and back: called the Vel Kavadi. Then there are the devotees who are pierced with two skewers; one through the tongue, and one through the cheeks. For the devotees there is a sense of joy and celebration- a huge party atmosphere exists for three days.
Often, when people go to photograph this event they head directly to the devotees with vels stuck in their cheeks or backs. These are the obvious pictures. But Thaipusam is about religion and culture and so much more than just needles and spears stuck in the skin. Like any church attraction, or iconic event, as a photographer of said event one should try not to just photograph the obvious, but rather look for what's under your feet, or look for what's behind you. Don't always look in the same direction that the crowd is looking. The fact is, the crowd probably is your photograph. This weekend as I take a group of 8 to 10 photographers out for Thaipusam, my main advice to them is don't just shoot the obvious, but as Steve Jobs used to say, "Think Different." Here's a short list of ways that you can think different:
Change your lens. If you normally shoot a telephoto, try shooting a wide-angle to get a different and more intimate angle on the subject.
Turn around. Shoot from different angles. You might be missing something important happening behind you.
Play with your exposure. Try to find dramatic light, shoot directly into the light or expose for the highlights allowing your blacks to drop off.
Get up early. Type of some starts in the middle of the night so be there. Get away from the obvious midday light that everyone else shoots in.
Think Different with your flash. If you're using a flash try different techniques like rear curtain sync. This gives the simulation of motion.
Get off the beaten path. Literally, there will be thousands of people walking the same pass through the three days. Get off the path and go into the smaller temples and shoot what's happening there.
For those who are local to Penang. I will be leading a photo walk of sorts. It is kind of a hybrid guided walk and field instruction.  If you are interested please contact Michelle Grimsley as she is coordinating this walk. There is a fee of RM 200 each morning.
FaceBook Comments
comments