Ladakh Photo Trek Part 2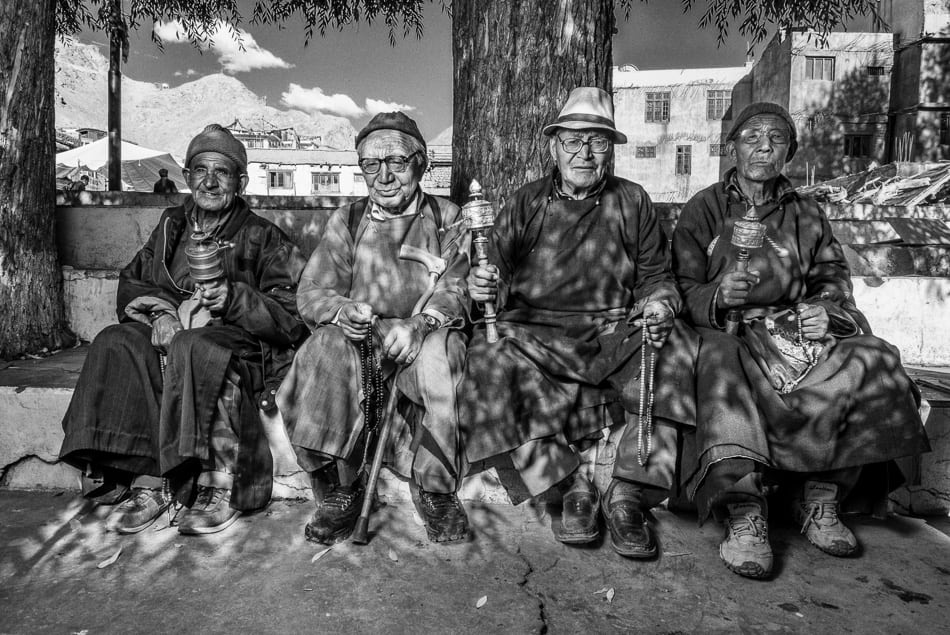 On arriving into Ladakh, India our photo workshop participants needed most of the first day to acclimatize to the altitude. Leh, the main city of Ladakh, is at 3,524 meters (11,562 ft) and at that height most of us lowlanders' heads spin if you stand up to quickly. Heck, just walking up a single flight of stairs will take your breath away. Another thing this kind of altitude does is to give you wild and vivid dreams. Trust me, it's not the dal & rice you had for dinner, it's the altitude.  But acclimatizing didn't mean doing nothing. Late in the day we drove to the Shanti Stupa and photographed the Leh Palace and the Namgyal Tsemo Gompa or monastery. You saw a couple of these shots in the last post. Below is one more. The light was just right for some stunning images.
The next few days were spent touring local attractions and monasteries around Leh. After Leh we traveled the 4 to 5 hours by jeep to one of my favorite locations in Ladakh, the village of Lamayruru. A quaint little farming village overlooked by a large and impressive monastery or gompa.
After two nights we made a slow return to Leh where we did laundry and rested. Piet and I went for a walk around the city and ended up at the Soma Gompa just off the main bazaar road. It was here we saw several old men sitting and just watching the world go by. They nodded to us, so Piet and I walked up to them and gave them our hardest, "Julley!" the local greeting. We asked them if they would like a photograph. Not can we take a photograph, but would they like one. They each smiled so Piet, our resident off camera flash Guru began setting up his lights. While Piet was setting up I sat and chatted with them and got their names and ages and where they lived. They were all in their late 80's and all had been farmers. It was about this time that someone made a crack, "I hope you are going to pay them royalties!" It had begun. It seems like every workshop we find some tourist that is upset with us for taking photos. Never mind that we ask. Never mind that we get to know many of them (granted not everyone). Frankly in my little conversation with these men I learned much more about them that this guy knew, I am sure. The tourist made another disparaging remark and wondered off. One of the old men named Sonam asked me what was his trouble. I said he didn't like us taking their photo. Sonam then said, "It's our photo, not his. He should not care." Good point. 'Hit and run' photography is not my thing: whenever possible I like to get to know the people I am photographing. I also like to give prints out to as many people as I have the time and money to do so. Each of these men got a small Instax print of their own that we printed from our Fujifilm instax SHARE Printer SP-1. Each of them beamed when we gave it to them. Each of them thanked me. I'll never sell this image. I might let Fuji use it on a blog, like any of my photos. Rarely do I sell an image of the people I photograph. When I do sell an image, I pay them a model fee and have them sign a release. These men are not models, they're men who shared a little part of their life story with a me and demonstrated the hospitality and friendship of their people.
By the way, we still have a few spots left on the Rajasthan workshop in Feb 2015.
FaceBook Comments
comments