First Look: Fujinon XF 16-55 mm f/2.8 R LM WR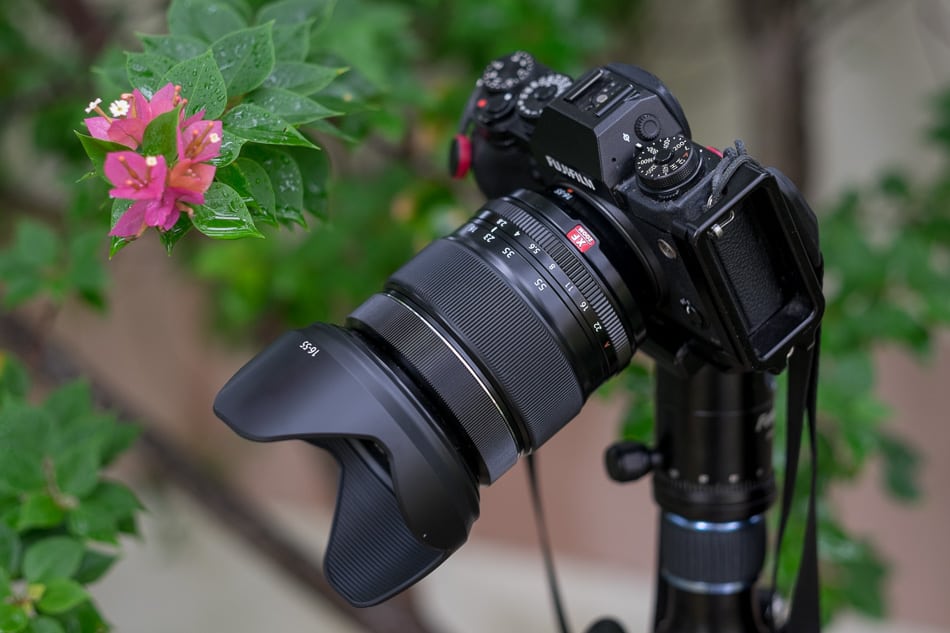 A few weeks back I sat with two of the marketing managers for Fujifilm in our local Starbucks. One was from Malaysia and the other was the regional marketing manager from Japan. As we spoke and drank our coffee we talked about all the good things happening with Fujifilm within Malaysia and globally. As we were getting ready to leave one of these men asked, almost in passing, if I would like to shoot the new 16-55 mm. I was stunned. This is the hottest new lens from Fujifilm. As far as I knew no one had even seen it yet, let  alone used it. After picking up my jaw from the floor I said, "Heck yeah!". "Ok, we will get it to you Friday, just in time for your assignment." (I was currently shooting for a Hong Kong based magazine on the markets of Penang).
But they quickly placed a few caveats on my reviewing of this lens. This is a pre-production lens and as such it has all the glass where it is supposed to be, so to speak but the software in it isn't up to date. As such, I was asked not to comment on its image quality yet. The reality is that once this lens is released the firmware will influence how this lens interacts with the camera and will produce a slightly different image. But the lens is in all other aspects complete. This is what it looks like and yes, you are seeing that there is no OIS on this lens. I know this has been hotly debated among Fuji X-photographers. Fujifilm's rationale is that they wanted to keep the lens light and as small as possible. The reality is when you have a lens that is f/2.8 throughout the zoom range the lens isn't going to be small or light. So I think there had to be a compromise.
The official designation of this lens is XF 16-55 mm f/2.8 R LM WR. Let me quickly go over these terms:
XF: is the designation for the X-Series high end lenses.
16-55 mm: is the zoom range.

f/2.8: is the widest aperture setting. This lens is continuous f/2.8 throughout the zoom range.
R: stands for Ring and means the lens is equipped with an aperture ring.
LM: stands for Linear Motor and means the lens is equipped with a linear motor. A linear motor offers the advantages of rapid movement and silence.
WR: stands for Weather Resistant
This lens is designed to be the pro version of the XF 18-55mm f/2.8-4 R LM OIS kit lens. One would assume that the 16-55 mm's glass will be better and I am sure optical coating will be better than what's found on the XF 18-55mm. It is hard to tell how sharp this lens is with a pre-production unit. So as agreed, no comments on the sharpness. As I stated before, the 16-55 mm gives you f/2.8 at the widest focal length from 16 mm all throughout the zoom range to 55 mm. Unlike its little brother, the 18-55 mm which starts at f/2.8 and as you zoom out narrows down to a f/4 at 55 mm. The big question is – will the extra light the 16-55 mm f/2.8 gives you allow a fast shutter speed and thus more stability compared to the OIS stabilization the 18-55mm allows even at f/4? I think street photographers and some event photographers might still prefer the 18-55mm f/2.8-4 with OIS as it is smaller, lighter and has OIS. Portrait photographers will enjoy more bokeh with f/2.8 at the 55 mm end. Also remember that the 16-55 mm is 2 mm wider on the wide end of the zoom. This might not seem like much but in shooting with both lenses I found it to be significant. Roll your mouse over the image below to see the effect of what 2 mm can make.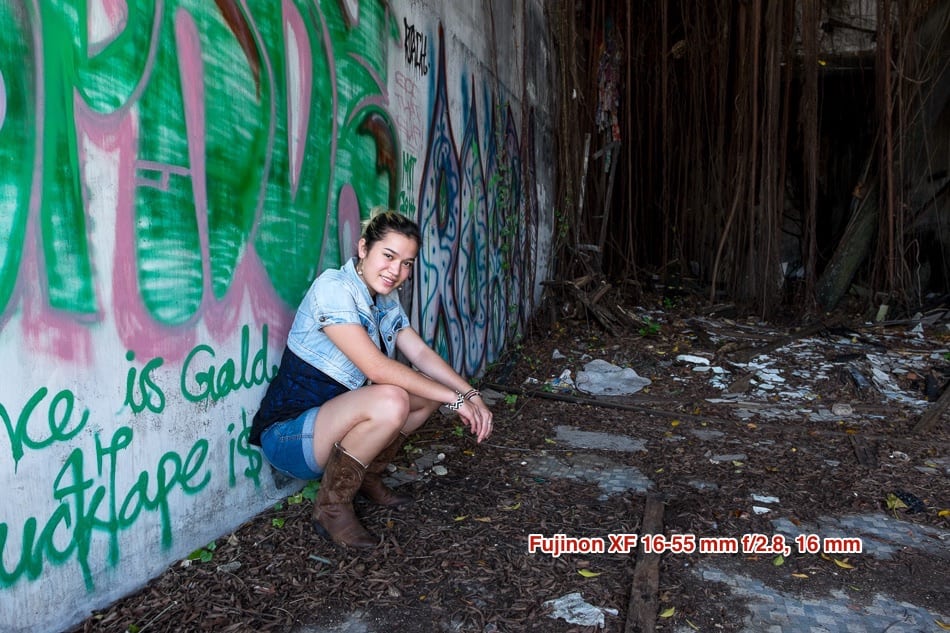 Mouseover the image for comparison
In the photo above you can see a definite change of the angle of the lens from 16 mm to 18 mm. But you don't sense any significant changes in the depth of field even though one was shot at f/2.8 and the other at f/4. Now take a look below and compare what f/2.8 versus f/4 looks like at 55 mm. I would say that is pretty significant and this is where the 16-55 mm is going to shine.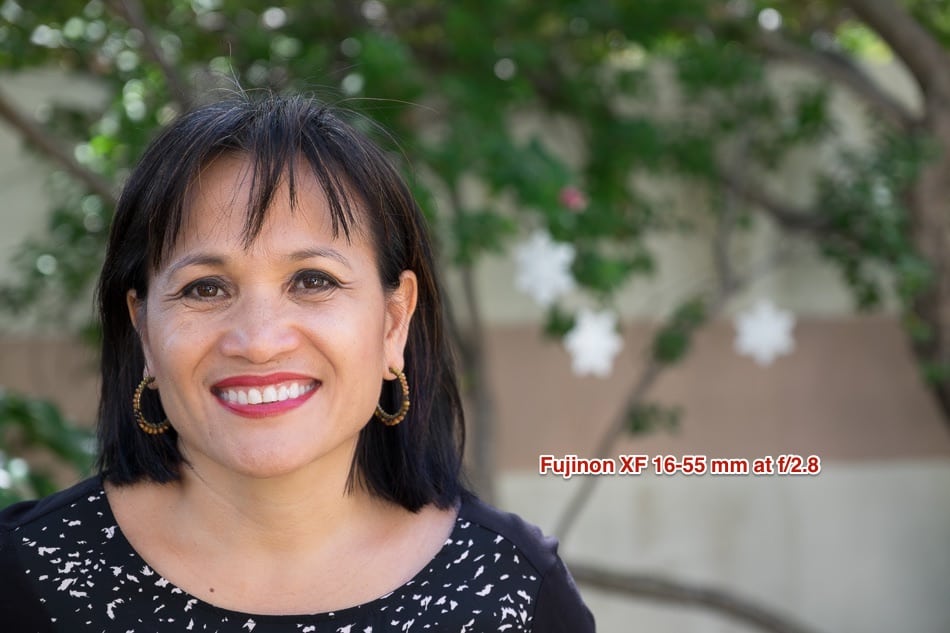 Mouseover the image for comparison
This lens features the Nano-GI (Gradient Index) coating technology found on the 50-140 mm. Fujifilm describes Nano-GI like this: "Also, using the newly developed Nano-GI (Gradient Index) coating technology, which alters the refractive index between glass and air, ghosting and flare are effectively reduced for diagonal incident light." If this has something to do with the crazy sharpness of the 40-150 mm then this lens is going to be sharp.
I made a comparison with the Canon EF 24-70 mm f/2.8L USM. The Canon weighs in at 950 gm or 2.1 lbs. The Fujinon XF 16-55 mm f/2.8 tipped my kitchen scale right at 674 gm or 1.4 lbs. So it's much lighter than the full frame equivalent.
Since both size and weight play into stability this begs the question, does this lens need the OIS? I am no engineer but I assume the addition of OIS would make it heavier and larger. If this lens had OIS, users would get a few stops of effective hand held shooting. Hmm. What do you think? It seems like the weight thing is a bit of a "Catch 22″. The heavier it is, the more unstable, yet if you add OIS to stabilize it then it becomes heavier. The materials are all consistent with the other Fujinon lenses. It is constructed with the same build quality as the 50-140 mm.
I love fast lenses and with f/2.8 all throughout the zoom range, this lens has potential to be another killer lens by Fujifilm. Fuji has a history of making sharp lenses, so let's watch and see if this lens ends up a winner.
---
Rajasthan, India Special Discounted Price on Last Workshop Spot.
In Other News, We had a last minute cancellation to our Rajasthan, India Photo Workshop for this coming February 14- March 1st. It was sold out but one of our participants had some personal issues and needed to back out. We would like a fully booked group so we are prepared to offer this last spot at a discount of $200! If you are interested in this last spot you can fill out the registration form here. Of course it's going to be the first person to get their deposit paid.
 Coming Soon: Kashmir, India Photo Workshop, June 2015
We are putting the final touches to a June Kashmir, India workshop. I lived in and ran a trekking company in Kashmir for close to 13 years. As such I know this area very well. We should be officially announcing this workshop within the week. The trip is scheduled to be 10 days with 3 nights of camping in the Indian Himalaya with the nomadic Gujjar shepherds. I can also say we will be staying on a classic Kashmir Houseboat on Dal Lake, in Srinagar. We will be photographing the many Sufi shrines and mosques around the Valley. It will be a trip of a lifetime. We also will be offering a Delhi/Agra/Taj add-on. So if you are interested drop me a note and I will put your name on the list to notify first. We will only have 9 places available. You can reach me at info@indiaphototreks.com.
FaceBook Comments
comments