Multimedia: The Pull Rickshaws of Kolkata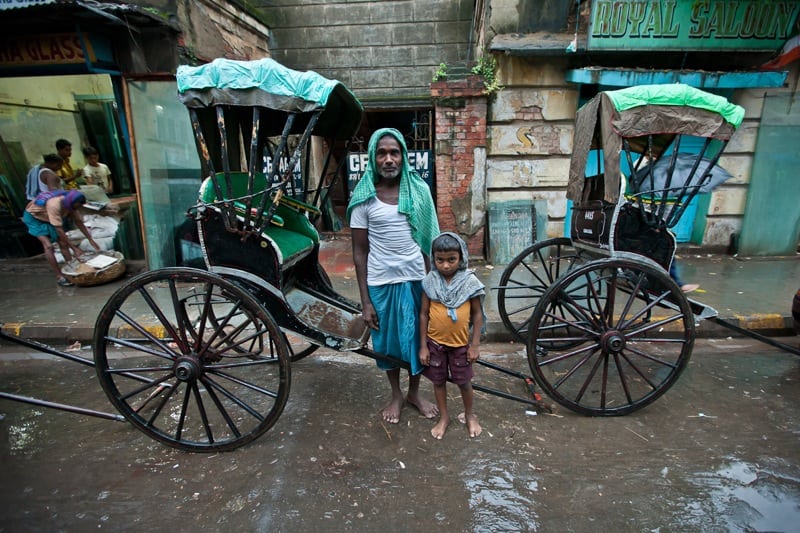 Last week I returned from Kolkata ( the city formerly known as Calcutta ), India. I actually didn't go for an assignment or even to take photos. I accompanied with my wife who had business there and while in Kolkata we visited with some friends.  Yet, if truth be known, a photographer never goes anywhere without somewhere in the back of his mind the intent to take a few photographs. But,  photos were not the primary intention and thus have to take a back seat to other things this time. I did not go to Kolkata with the intent of creating a story on the rickshaw pullers, if I had, I would have spent more time developing a different angle on their life and work. Given my limitations I was still able to bring you this somewhat limited look at their unique lives. I hope you enjoy it and find it informative.
Please note: I have had several questions recently from some prominent photographers about why I choose to use SoundSlides Plus rather than some other software for bringing you these multimedia presentations. There could very well be something better out there and in fact, if I was incorporating video I would use something other than Soundslides Plus. Yet, given the fact that I am only using still images with audio I feel this is the best available at this time. Why? Because, it gives you, the viewer the option to simply view it as an automated slideshow or if you choose you can also view the show at your own speed using the left and right arrow buttons. You can also view each image using the gallery button. Soundslides Plus gives you the option, as with most video players, to view the slide show in full-screen. However, unlike any video, you can toggle the captions on and off.
FaceBook Comments
comments