Review: Think Tank Photo's 4 Sight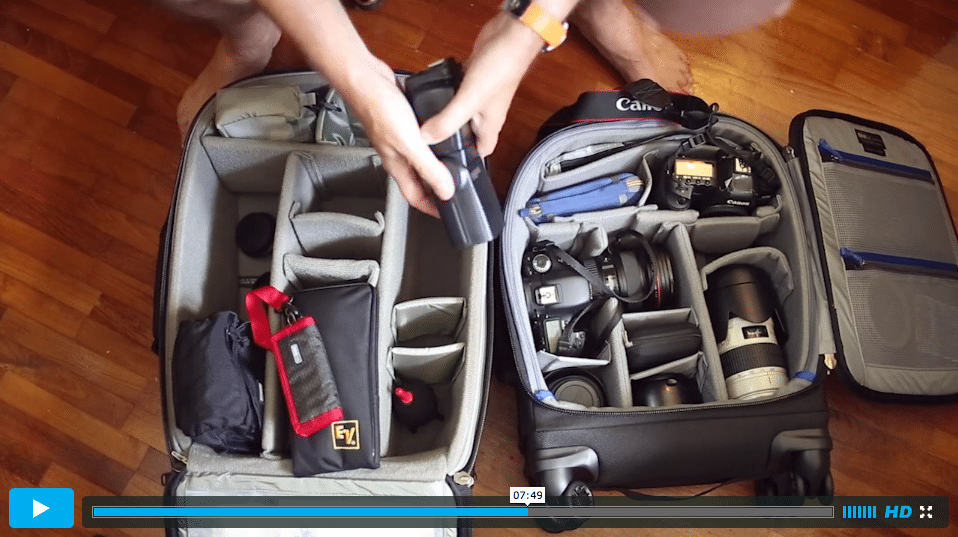 Review: Think Tank Photo's Airport 4 Sight Camera Bag from Matt Brandon on Vimeo.
I know I am not alone when I say, I love photo bags. I have never really understood out why. My wife has told me, a woman can never have too many hand bags. Apparently there never seems to be the right bag for the right outfit, and so it is with camera bags. They are either too small or too big, too heavy or too … something. I think the matrix that informs us what bag to use is just too complex. You have to figure in the amount of gear needed for the shoot, then take into consideration the location where you will be traveling to, the mode of travel, the method of transporting the gear once you arrive at your destination, the weather and more.  So in the end you can never have the right bag. That simply means a photographer needs a different bag for each possible scenario. You heard it here! You can quote me.
A week or so back I received Think Tank Photo's latest addition to their Airport Series of bags, the Airport 4 Sight. I like it … a lot. It is smaller than the Airport International and it has a completely new form factor. The bag's lid opens with a hinge on the side of the bag rather than the bottom–like the other bags in this series. Think Tank also changed things up with four coaster wheels rather than the standard two they have always used. Rather than type out my thoughts here, I made a rather lengthy (13 min) review of the bag with the help of my video partner Nathan Watkins. I think it will give you a thorough look at this bag and help you decide if the Airport 4 Sight is the bag for you. The video shows you how I pack my bag and how I use my Think Tank Photo Urban Disguise as an accessory to the Airport series bags. Personally, I think it fits that "Goldilocks" niche of not too big, not too small, but just right!
Editor's Note: Several time in this video I refer to and compare the Airport Security and the Airport International. I am always getting the names of these two bags confused and I know why. In my mind the Airport International should be bigger as most international flight seem to have larger overhead compartments. But this is not the case for these two bags. The Airport International is the smaller bag and the Airport Security the larger. Sorry for the confusion.
Its features include:
·         High capacity.  Holds Pro DSLRs with four to five lenses. (best without the battery grips)
·         Integrated removable Think Tank Cable Management organizer.
·         Side hinged lid opens bag completely for quick and unencumbered access to gear.
·         Two-position locking handle for comfort and ergonomics.
·         Zippered top pocket for boarding pass.
·         Lockable zipper sliders on main compartment.
·         Reinforced bottom panel for increased durability.
·         User replaceable handle and wheels.
·         Seam sealed rain cover included.
·         YKK RC-fused™ zippers.
Price: $299
For more information you can check it out HERE.
FaceBook Comments
comments