New Workshop Announced: Delhi, Agra & Varanasi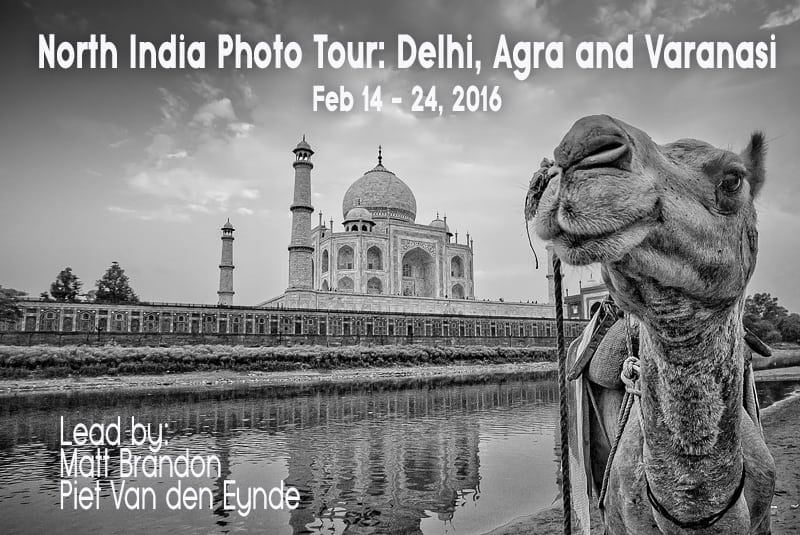 [restabs alignment="osc-tabs-center" responsive="true" icon="true" text="More" tabcolor="#2ba9e1″ tabheadcolor="#ffffff" seltabcolor="#f27a4b" seltabheadcolor="#000000″ tabhovercolor="#a27e98″]
[restab title="About" active="active"]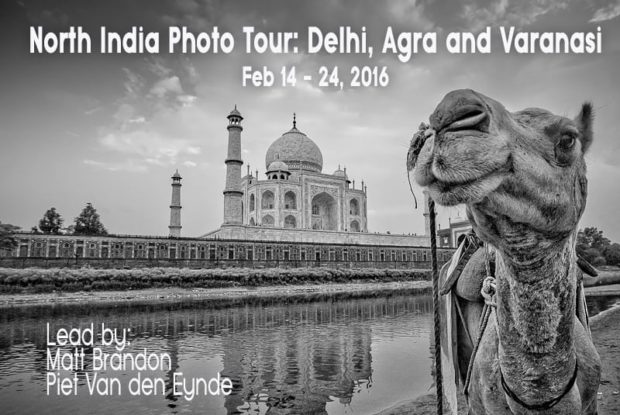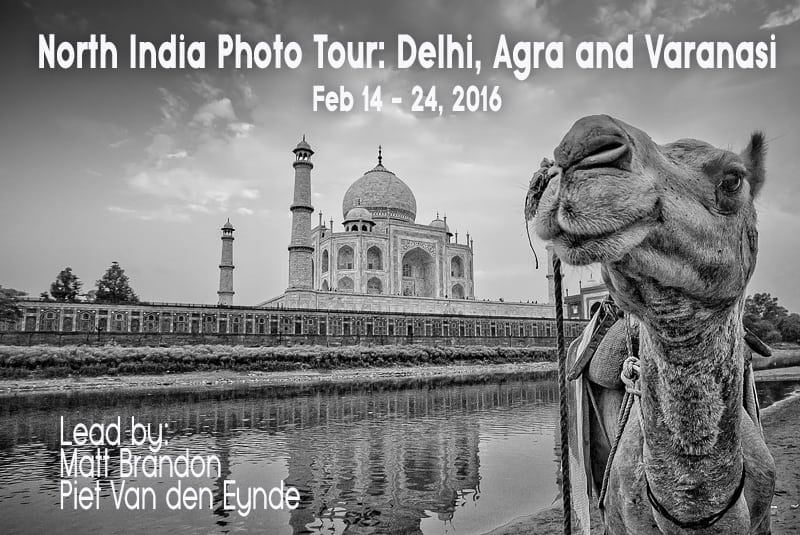 North India has always been looked on as a photographer's paradise. It feels as if a photographer can't take a bad photo while visiting its many exciting cities or streets. Of course this isn't true, but what is true is that it offers the photographer unlimited potential for amazing photos of people, ancient buildings and monuments and lest we forget colorful festivals.
Having explored and photographed these cities and streets for over 25 years, Matt Brandon will give you photo opportunities like few other photographers can deliver. Matt and Alou Brandon and Belgian photographer Piet Van den Eynde who also spent his share of time traveling through Asia in general and India in particular, are uniquely suited to give you a photo tour that you will never forget.
During this trip we will be visiting Delhi's old city and walking the streets and alleyways photographing life as it unfold before us. Old Delhi's architecture dates back to the Mughal Empire and provides a fascinating backdrop to our photography. From Delhi we drive to Agra, the home of the Taj Mahal. Know as a monument to love, the Taj is one of the most photographed and well know structures in the world today. We will help you get the photo of the Taj you want, whether it's the classic frontal shot from the reflection pool or something more creative. You're in good hands! We leave the Islamic influenced cities of Delhi and Agra and we travel by train to Varanasi, perhaps the holiest Hindu city in the world. It is believed that Varanasi began in the 11th or 12th century BC, placing it among the world's oldest continually inhabited cities. Rich with culture and symbolism and as such one of the most visually exciting places to visit in India. We will walk the bathing ghats and photograph street life and bathing rituals. Because so much in photography depends on your perspective, we will travel up and down the river to photograph the same things from a different angle.
There will be teaching sessions throughout the tour: some of those will be formal and scheduled, others will be impromptu while we're in the car or on a train. Matt's going to teach – amongst others – composition and storytelling, while Piet will focus on using off-camera flash. You can also pick Piet's brain about anything Lightroom and Photoshop related. Throughout the tour, we'll also have an English speaking 'fixer' for us who will provide invaluable in establishing contact and help you to get the shots you want. There will also be a number of evening 'image reviews'. Our past participants have found these sessions, in which we look at one shot of each participants, particularly enlightening and inspiring as they can help you to see how others approached a similar scene.
Dates: Feb 14 – 24, 2016
Leaders: Matt Brandon, Piet Van den Eynde
Price: $4,850.00
Payment Policy:
• A deposit of $1,000 due upon registration
• Balance due November 17, 2015
Accommodation:
This price is quoted offering a double room. If you would prefer a single room, that's entirely possible: the single room supplement is $1,000 and can be booked as an option on the checkout form.
This trip will see a variation of accommodations. From the Double Tree by Hilton in Agra to a heritage hotel on the Ganges.
What's included: Just about everything.
Double room on sharing basis.
Meals during the tour.
All transfers and sightseeing by air-conditioned Mini Coach as per the program.
Entrances to the monuments as per the program.
Services of English speaking local guides for sightseeing as per the program.
Train fare from Agra to Varanasi.
Bicycle Rickshaw ride in Delhi and Varanasi.
Boat rides in Varanasi as per the program.
Bottled water in the Mini Coach.
Train fare from Agra/Varanasi/Delhi.
Assistance at all the airport/hotels by our representatives.
Tuition by Matt and Piet
What's NOT included:
Any expenses of personal nature like tips, laundry, all beverages, telephone calls etc.
Any expenses caused by factors beyond our control like flight cancellation, road blocks, vehicle malfunction etc.
Any medical or evacuation insurance
Your international flight to and from Delhi
[/restab]
[restab title="Itinerary"]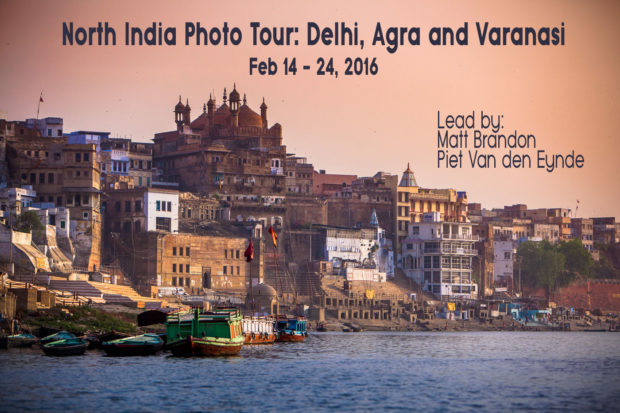 Tour itinerary:
Day 01: Arrive Delhi
Arrive in Delhi. On arrival, you will be welcomed by our representative at the International Airport and transferred to your hotel in Delhi.
Overnight in the Hotel
Day 02: Delhi
Breakfast at the hotel and an orientation meeting will be followed by a walk through Old Delhi's Chandni Chowk Market. This is as bustling as it gets! We will explore the back alleyways of this ancient city. We'll visit old mosques ranging from the laid back small Fatehpuri Masjid to the magnificent splendour of the Jamma Masjid. From the streets of Old Delhi we travel the holy shrine of Sufi saint Hazrat Nizamuddin. If we are lucky we might be able to enjoy the local faithful as they sing qawwali songs in worship of this saint. The Nizamuddin area is off the beaten tourist-track, and therefore extra rewarding for photographers.
Overnight in the Hotel
Day 03: Delhi-Agra (By minibus)
Morning train to Agra. On arrival, transfer to the hotel for check-in.
After breakfast we drive to Agra (appx 3-4 hrs). Agra is home to the world's greatest monument to love: the Taj Mahal. The Taj was built by Emperor Shah Jahan over a period of 17 years from 1632, in memory of his beloved late wife Mumtaz Mahal. It is best photographed at sunrise or sunset when the light reflects off the marble and gives it a special radiance. Needless to say, we'll have opportunities for both and we'll get you there at the right time and the right spot! Agra has other treasures worth visiting as well, such as the beautiful Itmad-ud-Daulah's tomb and the brilliantly constructed Agra Fort from which you also have terrific views over… the Taj Mahal!
Late afternoon sunset visit to Taj Mahal.
Overnight in the Hotel
Day 04: In Agra
After yesterday's sunset visit, we'll revisit the Taj Mahal at sunrise for a completely different look.
After breakfast at the hotel, we'll visit Agra Fort.
Late afternoon visit to Itmad-ud-daulah as well as a drive to the other side of the river to see the sun set on Taj Mahal from a different perspective.

Day 05: Agra/Varanasi (Train)
We want you to make the most out of your time in and around Agra so on our last day here we'll visit Fatehpur Sikri, an ancient capital of the Mughal Empire and now a Unesco World Heritage site. Then we return to Agra for our connection to Varanasi. There's nothing like catching a glimpse of Indian everyday life as catching an Indian train! We'll take the convenient night train from Agra to Varanasi.
Day 06: Arrive Varanasi (by Train)
After our transfer to the hotel (a beautiful and characterful haveli), we'll have breakfast and a mid-journey relaxing day for those who wish. Alternatively, you can already start to explore the city!
Day 07: Varanasi (boat ride)
We wake up early and experience the life of this ancient city by boat. The boat ride passes along some of the 100 ghats (bathing places), with numerous palaces built by Hindu kings. You'll be able to experience first hand the early morning rituals being performed by the Hindus.
In the afternoon, we'll drive to Sarnath, 9 km from Varanasi, one of Buddhism's major centers in India. It was here that Buddha gave his first Sermon after attaining enlightenment.
We'll conclude our first day with an evening walking tour on the ghats.
Overnight in the Hotel
Day 08-10: Varanasi
Three full days to photograph the ghats and the alleyways and colorful shops scattered throughout the old city along with morning and evening boat rides over river Ganges. We'll practice shooting for storytelling, composition and how to use flash to balance the harsh Indian sunlight.
Overnight in the Hotel
Day 11: Depart Varanasi
A last morning in this stunning city to make (or remake) the shots you didn't get.
Late afternoon transfer to the station to board the overnight train for Delhi.

Day 12: Arrive Delhi
Transfer to airport to board flight for onward destination.
[/restab]
[restab title="Leaders"]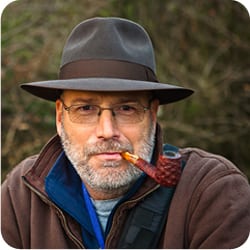 Matt Brandon is a Malaysia based humanitarian and travel photographer, who collaborates with NGOs to tell their stories and to train their field staff to do the same. Well known as a photographer and international workshop instructor, Matt's images have been used by clients such as Partner Aid International, NeighborWorks, the BBC, Honda Motor Corporation, and Bombadier Transport Corporation, Asian Geographic, KLM Airlines and others. His photographic pursuits have taken him to the countries of Egypt, Tibet, India, Indonesia, Thailand, Maldives, Philippines, Malaysia to name a few. Matt also is known for teaching presenters how to present their message in the most effective and memorable way. This makes Matt a great teacher to any workshop or classroom. Matt is also a key member of the International Guild of Visual Peacemakers, he's on the advisory board for Focus for Humanity and on the design board for Think Tank Photo, a camera bag manufacturer.
For more information on Matt, read his complete profile at PhotoShelter.
Matt's Books:
Visit Amazon.com for Matt's book of images from Kashmir titled "Kashmir, Mystery".
Piet Van den Eynde (pronounced "Pete") is a Belgian freelance photographer specializing in travel portraiture. He has written five Dutch books on Adobe Lightroom and currently has nine English ebooks for CraftandVision.com, such as 'Making Light' and 'Making Light 2' about off-camera flash. He also has a seven hour 'Photoshop for photographers' video course and a couple of Lightroom books. Finally, he has created two sets of Lightroom preset packages, one Black and White and one for Color Grading. He contributes articles to photography magazines and gives trainings worldwide about digital photography, working with small flashes and post-processing. He's an Adobe Photoshop Lightroom Certified Expert.
In 2009, Piet threw his camera, a flash and an umbrella in his bicycle panniers and cycled 5000 miles through Turkey, Iran, India and Indonesia for a photography project called Portraits Of Asia.
Piet is a prolific author and has a whole list of e-books to his credit. Find them here at Craft & Vision. Learn more about Piet on his blog More Than Words.
Piet will be teaching off-camera lighting skills as well as some Lightroom post processing throughout the photo tour.
[/restab]
[restab title="Gallery"]