Saffron Coffee Shoot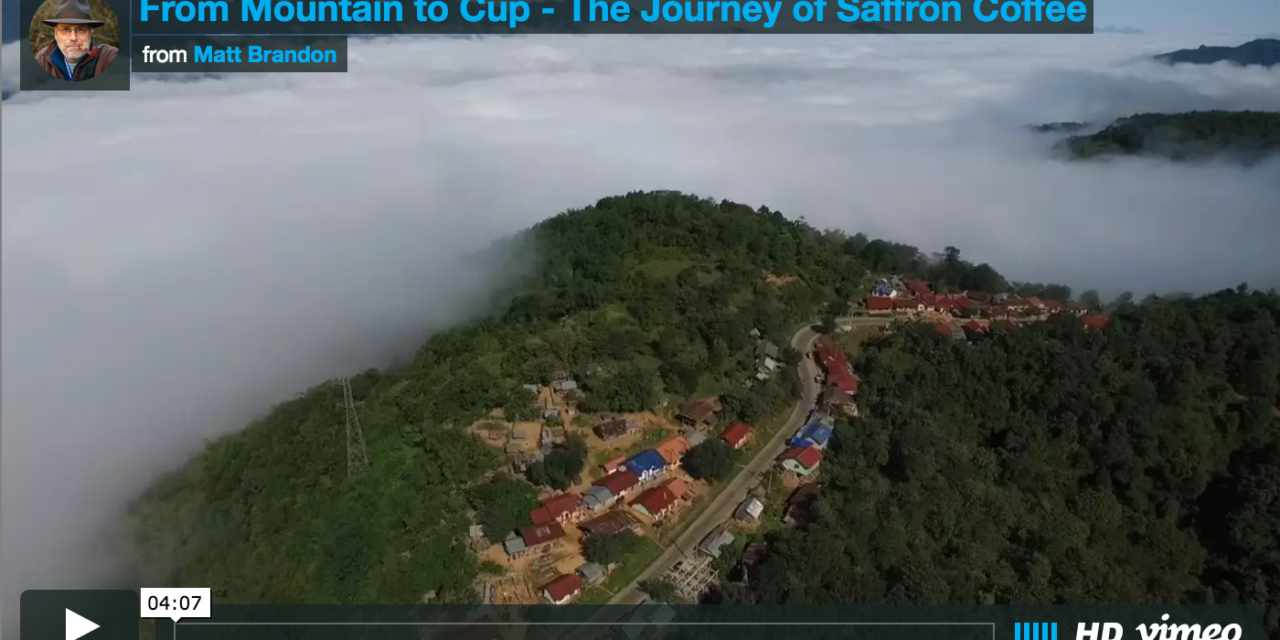 From Mountain to Cup – The Journey of Saffron Coffee from Matt Brandon on Vimeo.
This last week I traveled to Luang Prabang, Laos. There's a small but very significant social enterprise based there called, Saffron Coffee, that benefits both Laotian and tourist alike. Saffron Coffee is Lao-owned, Western managed and Lao staffed. The team that runs Saffron Coffee is a mix of Lao, American and Australian (I don't think I left anyone out.)
Saffron Coffee contacted me a couple of months back and asked me to bid on a photo job. The company needed some new photos for an upcoming promotional campaign. I made a passing comment how I think that I might have a drone by the time they wanted to shoot in November. Apparently, the thought of drone footage sealed the deal; I got the job. The only problem was I didn't have a drone yet. I wanted a small drone that was easy to fly and had a good camera. DJI just announced their new Mavic Pro and compact portable drone just days before. As it's only the size of a water bottle, it fits perfectly in a backpack! Two weeks before I was to arrive in Laos, I received an email informing me the drone I ordered was back ordered for 6 to 8 weeks! What was I going to do? Penang is not like the U.S.; we don't have places to rent drones or even camera gear. Luckily, Max, the guy I ordered the drone from was reluctantly (I don't blame him) willing to rent me his personal DJI Inspire. The Inspire is massive and costly! He requested I not check it in the hold of the aircraft, so I schlepped this beast all the way from Penang to Luang Prabang as an unauthorized second-hand carry.
I was also shooting the new Fuji X-T2 as both a still camera and a video camera. Frankly, I was just as scared of using the X-T2 as a video camera as I was this borrowed drone. I knew the X-T2 would perform flawlessly as a still camera. I had just used it in Europe, and it was incredible. In the past, Fuji x-series cameras have never had a good reputation for their video, but everyone was telling me how the X-T2 can now shoot 4K video and was far more intuitive.
Well, they were right. The video function of the Fujifilm X-T2 was very impressive. It handled low light and high ISO like a champ. The manual focusing was easy and swift. Everything about it was close to perfect. I do need to clarify; I am NOT a videographer. So I can not speak to this as a pro, but as a newbie videographer it was easy to use, and I was very pleased with the results.
The camera performed unbelievable as a still camera, though I never had any doubts about this. The focusing is faster than the X-T1, and the high ISO is very usable. My only issue was remembering that there is now a "un"-lock on the ISO and shutter speed dials. I would keep forgetting to relock it after changing the ISO or shutter speed, and the dial moves quite easily when not locked. So I found myself shooting at 800 ISO when I needed to be shooting more like 200 or 400. But since the X-T2 handles high ISO so well, it wasn't really a problem. But I have yet developed that muscle memory to remember to relock the dials after I unlock them.
I love my job. I get to work with amazing people from all around the world. The staff at Saffron Coffee are an amazing work for and with the Lao hill tribe farmers. A few years back the cash crop of Laos was poppies for opium. The Lao government shut down all the poppy farms and the farmers were left without any income. Illegal logging filled the income void for some farmers. The farmers can cut down trees and make some good money. They also grow rice as a cash crop, but that is seasonal. In the southern part of Laos people have been growing robusta and sub-standard Arabica coffee for years. The folks at Saffron Coffee saw all this as both an opportunity to help the farmers.
They knew that shade grown highland Arabica coffee could provide a constant income for Northern Lao hill tribes. The altitude and climate around Luang Prabang was perfect, and the people needed a new crop. Today Saffron Coffee is partnering with 784 farming families in 18 villages in growing their coffee. They make specialty coffees with the highest quality Arabica beans.
The traditional Lao brew has been an important part of the country's coffee culture for years – but Saffron Coffee doesn't see why specialty coffee can't find a home in Northern Laos as well.
FaceBook Comments
comments