2014 Gift Guide the Discerning Photographer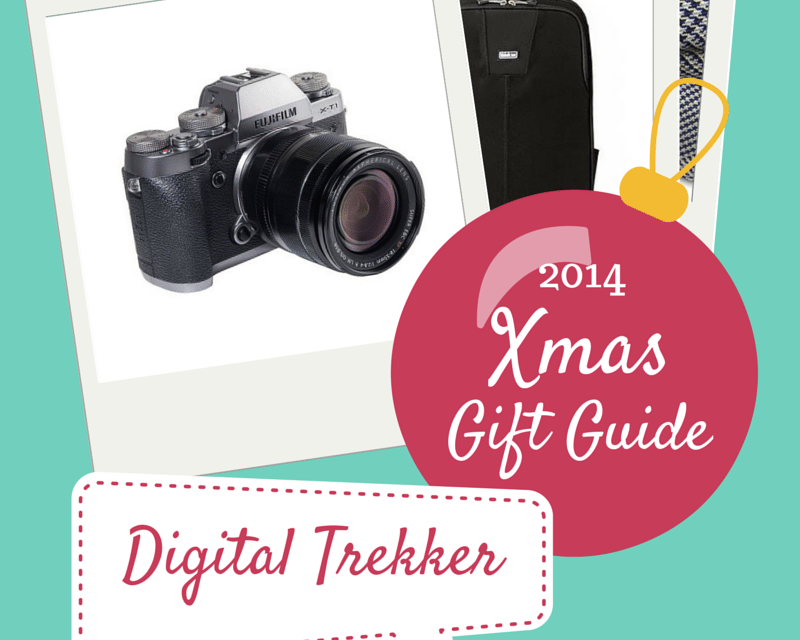 Every year I try to create a Christmas Gift List that I think my readers might enjoy. It started out as a list of things I had that I thought others should have as well. But it has since morphed into both a list of things I can vouch for and things I am putting on my own wish list. I wanted to get this out before the notorious "Black Friday". For those of you that are not American, this is the day after the U.S. Thanksgiving holiday and it has proven to be the biggest shopping day of the entire year.  I think I gave you a real variety – but no fedoras or pipes this year. Sorry. I did manage to add a bow tie , though . They are in general price categories from the most costly to the least. This way if you have a budget you know where to look at a glance. So without further to-do here is my list.


Price: $1499.00
If we are going to make a list of gifts for a photographer then we need to start with a camera. And what better camera in my book than the Fujifilm X-T1 Graphite Silver. There is just one word to describe this little camera: sexy. With its graphite silver and black look it harkens us back to the 1960s and 70s before every SLR was black on black. It looks remarkably like my old (1986) Olympus OM-4T. T was for Titanium. This unfortunately is not titanium, but it does have that look. It is cool looking but better still it is crazy functional. This camera has features no other Fuji has (at least until a firmware update on Dec 18th). This camera is on my wish list.
X-T1 Graphite Silver edition key features:
16.3 Megapixels APS-C X-Trans CMOS II Sensor
Dust and water-resistant body with more than 75 points of weather sealing. Freeze resistance to 14°F (-10°C).
Phase detection AF and motion predictive AF for continuous shooting up to 8 frames per second
Highest viewfinder magnification for digital cameras of 0.77x
Wide viewing angle (diagonal 38° and horizontal 31°)
Ultra-fast Real Time Viewfinder with a lag-time of 0.005sec (less than 1/10 of existing models) and new Natural Live View
Four different display modes: Full, Normal, Dual and Vertical.
Tempered glass 1.04 million dot high-precision 3″ tilting LCD monitor
Digital Split Image and Focus Highlight Peaking
Completely electronic shutter up to 1/32000 seconds
Die-cast magnesium body provides a sturdy and durable, while compact and lightweight design
Interval timer shooting for Time Lapse photography is available with intervals of 1 second to 24 hours and up to 999 frames
NEW 'Classic Chrome' and other film simulation modes
Full HD video 1080p at 60fps; bit rate of 36Mbps for clear capture of delicate movements; frame rates of 50fps, 30fps, 25fps and 24fps, supporting worldwide motion picture formats
Manual focus available during video recording
Free FUJIFILM Camera Remote application and Wireless Communication function allows users to remotely shoot images from smartphones and tablets via WiFi
Photos can be sent to the INSTAX Share Printer using the free INSTAX Share App (iOS and Android) SHARE Smartphone Printer

---
Price: $5,499 (single room occupancy)

We have one spot left for the 2014 Rajasthan Photo Trek & Workshop. Don't let the term trek fool you. This is sleeping in some of the finest hotels in India. We will be traveling through the kind of storybook locations any photographer could hope to visit. There will be an abundance of camels, castles, and color throughout this trip. We refer to this as a "photographic trek" in that we will be traveling across Rajasthan and stopping all along the way to photograph its amazing cultures and traditions. We will take time to visit historical locations where our local "fixers" will show us things that few travelers get to see. Throughout the trip we will be staying the nights in ancient forts, castles and historic Rajasthani Havelis.
Our trip starts off in New Delhi where we will visit some famous shrines and markets. After Delhi we will proceed by overnight train to Jodhpur, Rajasthan also called the "Blue City". Jodhpur stands on a range of sandstone hills surrounded by a strong wall. Dominating the city is a massive fortress. Very near Jodhpur are the Bishnoi settlements, the eco soldiers. Unique and highly photogenic, these shepherds and farmers live simple lives that we will be able to photograph. From Jodhpur we travel to Pushkar, a friendly town built around the edge of the small Pushkar Lake with its many bathing ghats and temples. For Hindus, Pushkar is a very important pilgrimage center where you will find plenty of sadhus. After Pushkar, we travel to the small village of Pachewar where we will photograph village life. Then on to Jaipur, the "Pink City", the capital of Rajasthan. Surrounded on all sides by rugged hills, crowned with forts enclosed by embattled walls, the city was built in the early eighteenth century. While staying in Jaipur we will make the excursion to the city of Amber to visit its ancient fort and the amazing Amber Step Well. Following Jaipur we drive down the road 3 hours where we will stay our last two nights at a 15th century Neemrana Fort Palace.

---

To be honest, I don't own this bag … yet. But it looks classy and frankly a lot more practical than any of the Ona bags. The Ona bags look too narrow and small. This looks like the right size for a proper camera bag. Normally I would say if you want a retro looking bag then go for the Think Tank Retrospective. But they don't have a leather trimmed bag, and I wanted to feature a canvas and leather bag here, just for the looks. Is it the perfect canvas and leather bag? No. It needs more pockets. But it's made like a saddle and looks pretty great! It will go with that retro style we are sporting on this page. Be sure to visit the link for more detailed images of the bag.

---
Price:
$389.75
I never carry my cameras through airports. My back just wont take it. I use a roller bag. I have used close to every bag Think Tank Photo has made. But I can tell you the best bag to date is the newest as well. It is the Roller Derby. It is a Goldilocks bag. What is a Goldilocks bag you may ask? Well, it is not too big and not too small. It is just right! This bag is made with four rollers (exclusively made by Think Tank). This bag makes walking through airports easy as … well walking through an airport. My only minor issue with the bag is on ramps: it wants to roll away, so you need to be a little careful or you might go chasing your bag though the airport rather than rolling it. But over all this is the best roller bag I have owned.
As a special for Black Friday Think Tank is offering a great deal. When you buy a Think Tank Photo rolling camera bag you are eligible to receive their new "Road Warrior Kit," a $44.98 value, for free!  The kit consists of ten Red Whips cable ties, a Cable Management 10 pouch, an AA Battery Holder (holds up to eight AA batteries), and a Small Travel Pouch. Frankly, I use all those accessories so this is a nice incentive to buy this bag now.

---
Price: $364.99
This is the watch I wrote about a few weeks back. I have this watch's older brother, the Ambit, which I use when I run. Frankly, because it is so techie it helps keep my interest in running. I track all my runs on the Movescount website. The HR stands for Heart Rate monitor. So as I run it tracks my heart rate, calorie burn etc. I know many of you have sport watches and you are wondering: why this one? and, why on this photography site? Well, for one thing this is a heck of a lot easier to use than my wife's Garmin, and much better than the Polar she had before that. It is simple and intuitive. Now why here on this site? Well, I also use it to geotag my photos. Yeppers, this little guy will track your movements and then let you download a GPRX file that you can then upload to Lightroom and geo-code your photos. You can read how I do it HERE. Amazon is having a Black Friday special on this watch and others HERE.

---
Price: 151.95
If you or the person you are buying a gift for uses Fujifilm X-series cameras or they are just a smartphone photographer, this is a great gift. This small instant photo printer pairs with the latest X-series cameras and most any smart phone  through an ad-hoc wifi signal. Once paired you can print small business card size instant prints directly from your camera or phone. A great way to share memories or "ad-hoc" (sorry) gifts on the fly. I use mine all the time.

---
Price:
$216.20
One of the major banes of the photographer's existence is dust on the sensor. There are two ways around this: send in your camera for servicing or do it your self. I choose to spend the money on these two little guys and save in the long run. Seriously, there is no better gift for a photographer than this. Easy to use and incredibly effective at removing dust from your sensor. In my opinion no photographer should be without this in their kit!

---
Price: $135.00
ScotteVest's, #1 selling travel vest, just got even smarter with the added feature of an RFID-blocking pocket to protect your valuables from high-tech skimmers that can steal your identity. Their advanced two-way zipper allows you access to all 26 pockets with ease. This is a good looking vest, there is no doubt about it. If you travel, and especially if you are a photographer traveling, it is getting harder and harder to take what you need in your carry-on. So here is the answer. A vest that holds everything and still looks nice. As they say, "There's more than meets the eye and even more that doesn't."

---

Price: $45.00
If you have read my blog for any amount of time you would by now know I smoke a pipe. You will also know I don't entertain comments about how bad it is for me. I already have a mother. Now I find it interesting that pipe smoking is gaining a bit of a resurgence. More and more men (even some women) are digging out their grandfather's old pipes and lighting up. The only complication to this is a newbie pipe smoker has no way to keep their pipes out side of a drawer in their office or a show box. Not to mention they have no way to travel with the pipe, the tobacco, tamp and lighter. Well, not any more! Now you can carry your pipe essentials with some class. This roll is specifically designed to hold your pipe essentials. Made out of leather and waxed canvas, this is a thing of class and your grand kids will appreciate you when they start lighting up because this roll is made so well it will still be around.

---
Price: $59.00
This might just be what your special photographer is looking for. I certainly want to give it a try. The Lomography Smartphone Film Scanner! You can now scan 35mm film directly to your smartphone. Show everyone on Instagram your analogue shootin' skills. Let all of Facebook see your passion for film. No middleman, middle-cables or cumbersome equipment here. It's simple: slide any smartphone into the scanner's snug mount, switch on the battery powered backlight, slip in your film and snap a pic of the negative. Straight forward and easy.

---
 Price:
$30.50

---
Price: $59.00 ish (KickStarter)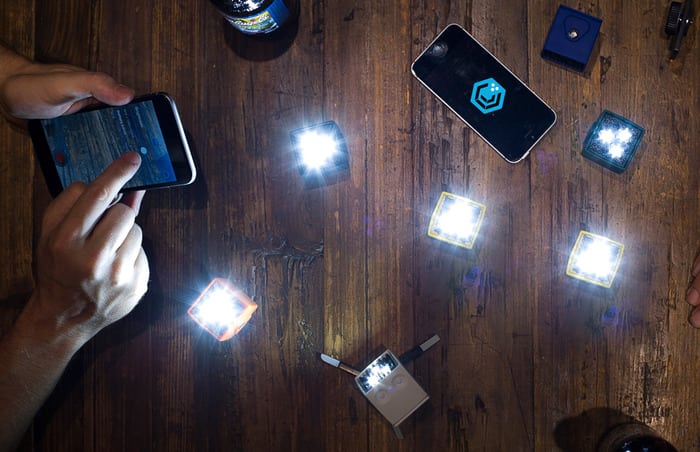 Lume Cube was drawn to my attention over Twitter and it looks like fun. It's an external flash for your smart phone. It's time to go beyond selfies (OH Lord I hope so!!). Sync your Apple iPhone or Android Smartphone to Lume Cube's bluetooth interface, and adjust up to 1,500 lumens of light output to find the perfect complement for your mobile photos and video. It also works with the GoPro. You can sync up to 5 Lume Cubes to your iPhone or Android smartphone using a simple Bluetooth-powered app. The app allows you to adjust the brightness and duration of lighting to capture the perfect shot long after the sun goes down. This is still in Kickstarter mode so it will cost you at least $59.00.

---
Price: $40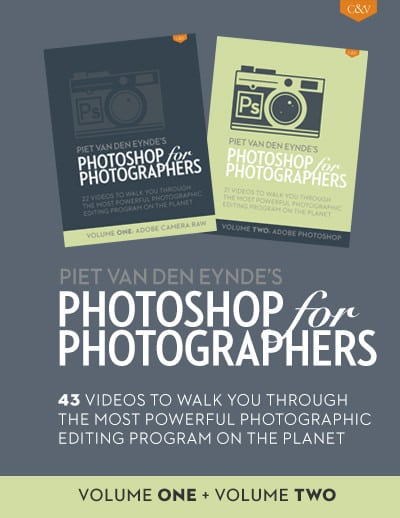 I have tried so many camera straps along the way from the high-end sling straps like Black Rapid, the more costly Artisan & Artist all the way down to the humble homemade strap and none work as well as the Peak Design Leash.  But, as I was writing this I saw on the Peak Design website they have two new models that look really promising, the Side, a wider version of the Leash and a new design called the Clutch a beefed up version of the Cuff. Both look very promising and look like something I would use. These are currently in a "pre-order" state on their website, and I have no idea if you would be able to get them for Christmas. But check them out.

---

Price: $20
Remember the days of film? Well, they're back … sort of. At least the canisters are. Because some creative soul has thought of sticking a 4GB memory stick into recycled film canisters. So now you can  have your favorite film with you, and this time it will hold a lot more than 36 exposures!

---
$15.00
"When you wear a bow tie, doors open for you. Your posture is a little more erect; your shoulders are a little further back; your style is a little more dynamic. It's about the reestablishment of the gentleman" – Dhani Jones (former American football linebacker)
For the photographer who wants to look great. I have only recently started wearing bow ties again. I wore them when I was a kid. But recently my daughter begged me to get a bow tie. I told her if I get a bow tie then it has to be a "self tie" bow tie. Meaning, the kind you tie yourself. None of this clip on or pre-tied stuff. I want to tie it myself.  Then last Christmas my mother and sister sent me a vintage silk diamond tip bow tie, and I couldn't believe how cool it looked. The diamond tips are unusual and thus distinctive.  So now I am finding every excuse I can to wear a bow tie. After all as the 11th Doctor says, "Bow ties are cool!" These bow ties are from The Tie Bar and are 100% silk. You can get the self tie, or if you are not as daring as me, pre-tied version. These are also a great deal. Until I ran across these, most of my silk bow ties ran around $35. These are a mere $15.00

---
FaceBook Comments
comments