A Killer Deal on Photographic Resources: the 5 Day Deal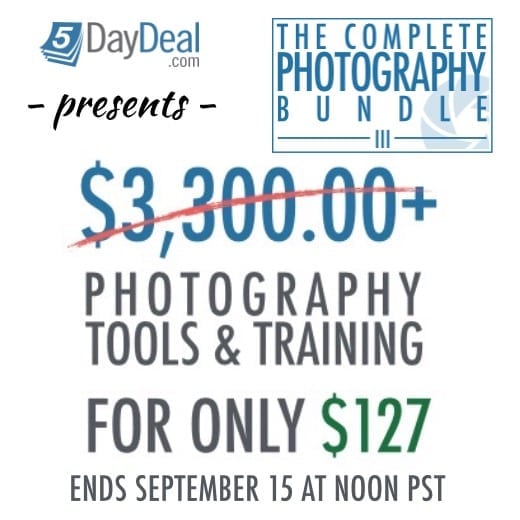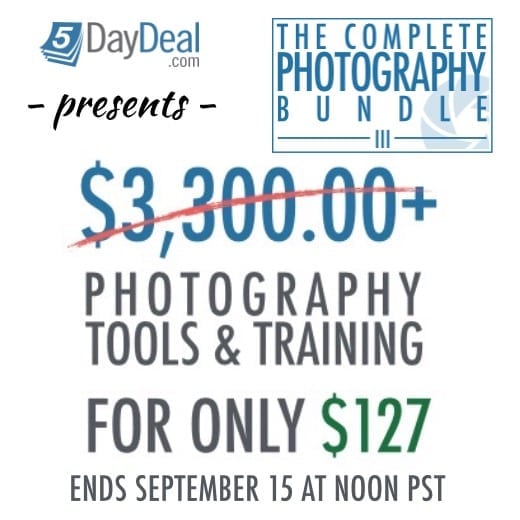 What if learning photography was relegated to a school classroom and cost university prices? We'd have a lot less photographers for sure. Fortunately this isn't the case. In fact there are photography courses all over the net at varying qualities and costs. With that in mind, I have a great educational opportunity for you. Once a year the folks at 5 Day Deal gather photographic resources from top photographer from around the world and bundled them for you for a limited time – 5 days. They've done it again, Stating today they have pull together a real, honest-to-goodness, deal. This is not a gimmick, it might sound like one, but it is one of the best values in photographic training material there is – bar none and it only last for 5 days.
Here is how this works. The founders of 5 Day Deal thought up a way to make a profit from bundling a ton of software, e-books, videos and more by selling them at a crazy price. They asked a boat load of photographers who author e-books, videos and e-learning websites to contribute product. This bundle contains $3,300.00 worth of quality photo related instructional material at a ridiculously low price of $127! There are several products in this bundled that are worth the $127 all by themselves. The first one that comes to mind is Lightroom for Landscapes. This is a full video course on Photoshop Lightroom. Granted, it is tailored to Landscape photographers but the reality is every photographer that wants to lead about Lightroom would benefit from this course. This comprehensive, 18 hour course tackles the entire Lightroom workflow. With 20 modules and a total of over 100 lessons, from import to export, you'll learn every feature of Lightroom in small, manageable pieces in a step-by-step fashion so you can put these new techniques into practice immediately. A $200 value. Personally even at $200 I find it a great deal. But at $127 even better and then added on to the rest of the bundle, it's a no brainer!
Now if this wasn't enough, in the past the 5 Day Deal folks have donated a huge chunk of their profits to charity. In fact last year, they raised over $250,000, that's a quarter of a million dollars for charity! This year they want to raise even more, the goal is over $300,000.
The 5 Day Deal ends in:

What is in this bundle?


Convinced? I hope so, I don't know how to make it any clearer… THIS IS A KILLER DEAL!
So how do I figure into this? I am an affiliate and I receive a percent of each sale. I will be giving 100% of all of my earnings from this sale to the On Field Media Project. I am asking you to use my affiliate link. https://5daydeal.com/?ref=77 . Not only would I like you to buy the product and take advantage of this deal during this limited time, I want you to help us raise funds for OFMP. Whenever you tweet, post or share anything about the 5 Day Deal please use this link above. In this way all profits from the affiliate link will go to the On Field Media Projects operating costs.
Maybe you are asking, what is the On Field Media Project? OFMP is a nonprofit that was established two years ago to help their nonprofit identify and tell their story to the world. So many young charities falter because they are failing telling the stories of their ongoing work, their successes and yes, even their failures. At OFMP we come to the field and work with these organization's field staff and teach them not only how to identify a story but how to tell it and illustrate it with photos and videos. You might ask 'why can't we just go in and shoot these stories for them and given them the images?' We could, but we want to empower these organizations to stand on their own feet and to be self reliant. Here is what some of our past clients have said about our work:
"They know what I don't know. So they brought themselves down, they humbled themselves I must say. To be at that level, whereby they can pick up my hand and just bring me up to where they want me to learn what they were teaching me. Those guys are just good. I love them." -Collins Odhiambo, The Kilgoris Project
This has really, really helped me to improve my photo and video taking and editing. …
Keep going to help NGOs to promote their organization. Because it's really helpful. This has helped us to promote our NGO. This has been one of my best experience – with On Field Media Project and the other participants.
– Tya Septiani
This training emphasis more on the "telling of a story" and not on the high tech camera. But after OMFP drilled me, gave me/us the rules and the principles in order produce picture/videos that tell a story and that touch and move people. The topic on multimedia gave me a positive outlook. Afterwards, this training gave me the feel of a professional even though I'm still a beginner. The training helped us also remember one the most important people are our patrons and donors.
– Nelson Liberato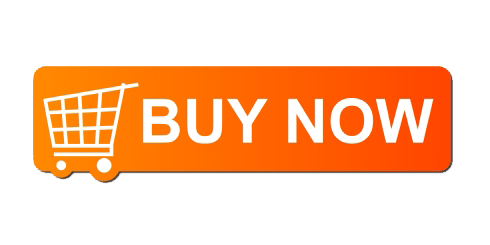 FaceBook Comments
comments